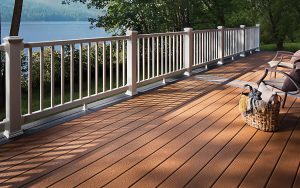 Lower prices for recovered polyethylene films have helped drive higher profits for composite lumber product manufacturer Trex.
The publicly traded company, which consumes post-consumer PE film for use in outdoor building products, reported sales of $140 million during the quarter, up 32 percent year over year. The company's net income totalled $20 million, up from nearly $8 million during the prior-year period.
Trex's profit margin also rose, driven in part by lower costs for one of its main feedstocks, recovered PE films. Specifically, Trex's gross margin in the third quarter was 39 percent, up from 28 percent during the prior-year period.
In an Oct. 30 conference call with investors, Bryan Horix Fairbanks, Trex's chief financial officer, also pointed to two other factors boosting the margin: cost-improvement initiatives and greater capacity utilization.
In answering a question about how China's decision to restrict imports of scrap materials has affected recovered PE film prices, Fairbanks said Trex started seeing reductions attributed to China in 2016. "China's been pulling away from that market for quite some time now," he said, according to a transcript from Seeking Alpha. "Earlier this year, they announced they'd be pulling away in totality at the beginning of 2018."
James Cline, Trex CEO, added that the company believes prices will continue to decline over the next few years, with bigger drops expected for heavily contaminated materials because higher grades are now available at lower prices.
In 2015, Trex began leveraging its expertise with recycling PE film to produce LLDPE pellets for sale on the market. But with the onset of lower prices last year it began to scale back the pellet-production business.
More stories about markets