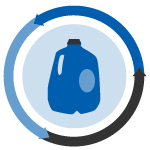 Procter & Gamble announces the expansion of a technology for recovering plastics from diapers, and reclaimers install new equipment to boost their capacities.
Plastics from diapers: Procter & Gamble says it will expand its absorbent hygiene products recycling operation to Amsterdam, where the technology will process up to 10,000 metric tons annually to recover mixed plastics, super-absorbent polymers and cellulose for sale. Sustainable Nonwovens reports the announcement comes after the success of the current operation in Italy, where residents are using source-separated collections to send their diapers and similar products to a plant for recycling.
PP processing upgrade: A U.K.-headquartered packaging producer has made equipment investments to boost its use of recycled PP, according to Recycling International. DS Smith spent about $420,000 at its Slovakia operation, replacing a plastics regrind machine with an Erema model and increasing monthly recycled PP usage from 100 to 200 metric tons per month.
Polystyrene processing: Two companies have inked a deal to develop a chemical recycling process for polystyrene. Agilyx Corp., which has been using its depolymerization process to extract marketable styrene monomers from EPS, signed a deal with INEOS Styrolution, a global styrenics supplier. "Chemical recycling and innovative recycling solutions for polystyrene will enable us to re-use collected post-consumer polystyrene waste into our manufacturing processes to produce high-quality virgin polystyrene," Ricardo Cuetos of INEOS Styrolution America stated in a press release.
Added wash line: Netherlands plastics reclaimer Rodepa has commissioned an additional wash line for post-consumer PE and PP film and rigid plastics. The equipment, provided by Herbold Meckesheim, includes a shredding, washing, drying and separation equipment and has a capacity of 10,000 metric tons per year.
Enzyme-recycling advance: A company that developed an enzymatic depolymerization process announced it has reassembled the resulting PET oligomers into new PET. The next step for France-based Carbios is to demonstrate that the recovered PET is suitable for molding into bottles, according to a press release.
Injection molding advance: Procter & Gamble has unveiled a new method of injection molding that's ideal for using recycled plastic. Plastics News reports the Imflux technology is capable of managing very large swings in viscosity. It uses low, constant pressure and is aided by software and pressure sensors, the publication reported.
Isolating polyester fibers: Hong Kong researchers have discovered a new way of recovering polyester from textiles made of mixed cotton-polyester blends. Eco-business.com reports the Hong Kong Research Institute of Textiles and Apparel figured out a way to break down cotton using a patented chemical solution, heat and water, leaving the polyester fibers available for reuse.
Using marine plastics: TerraCycle, Suez and Procter & Gamble have won a United Nations award for their project to recycle ocean plastics into bottles. The companies partnered to recover HDPE from marine environments and recycle it into Head and Shoulders shampoo bottles (see related story about a recently announced expansion of that ocean plastics project). They won a U.N. Momentum for Change Lighthouse Activity Award, which will be presented during the U.N. Climate Change Conference (COP23) this month.
To receive the latest news and analysis about plastics recycling technologies, sign up now for our free monthly Plastics Recycling Update: Technology Edition e-newsletter.