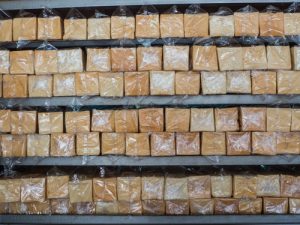 Great potential exists for increased film recovery in North America, where the residential film recovery rate sits at about 4 percent. Experts have identified key sectors that would be effective targets for coordinated investment.
Boosting reclamation capacity is at the top of the list, followed closely by increasing recycled content manufacturing. That insight comes from a detailed study completed by recycling consultant RSE USA for the Closed Loop Foundation, which is under the Closed Loop Partners umbrella.
Closed Loop Partners recently put money into one such recycled film end-market, Integrico Composites, which uses a variety of recovered materials, including PE films and multi-laminate flexible packaging, to make railroad ties.
The recent study identifies areas for future investment.
Facing the facts
Most PE film that gets recycled is sourced from commercial generators, such as big-box stores and warehouses. This stream has a roughly 21 percent recycling rate, according to the report, and is often used in manufacturing garbage bags or thicker films.
On the residential side, film recycling is available to many consumers through drop-off programs in the retail setting. But despite the prevalence of these outlets, they collect only a small portion of the bags and wraps placed into the market.
Conversely, only a tiny number of curbside recycling programs accept plastic bags, but most  materials recovery facilities (MRFs) report receiving film, which often gums up their equipment and contaminates bales.
There's also not much incentive to accept film. Programs often begin accepting the material to achieve higher diversion rates but can be stymied by a lack of downstream outlets. There are only two markets in North America that regularly buy film collected through curbside programs, "and they have very limited demand for the material," according to the report. The current markets include recycled-content film and construction materials.
"Of the approximately 300 million pounds per year of residential film MRFs receive, only 10 million pounds is able to be marketed due to lack of recycling markets for MRF film," according to the report.
The demand will either need to grow, or the material will increasingly be landfilled. According to the report, more than half the film collected for recycling in the U.S. is exported, but there is an ongoing decline in international market demand.
"Thus it is essential that the U.S. expand its infrastructure to sort, reclaim, and (manufacture) products using recycled plastic PE film," the report found.
Targeted and coordinated
Investors should target projects such as new wash plants for curbside PE film, the report found. More wash plants would "reduce transportation distances and freight costs, and provide additional market capacity" for the existing film that ends up in MRFs but is disposed of.
For existing plants, investment is needed to buy equipment increasing their scale and efficiency, as well as overall capacity. Facilities need funding for equipment and silos enabling bulk shipment of reclaimed resin, blending and compounding equipment, and high-efficiency dryers, according to the report.
MRFs need financial assistance as well. It's unclear how much revenue they'll yield from selling baled film, so there's no incentive to begin accepting the material without financial backing, either through investors or through higher rates to residential customers.
End users need investments in silos, blending, and extrusion equipment, which would allow them to start using film in products currently manufactured from virgin content.
Besides showing areas that need investment, researchers prioritized packaging design and end-market development. They also came away with some observations about film recycling projects that are already underway.
Groups looking to boost film recovery are "in some cases duplicating each other's efforts, whereas in other cases no one is addressing other obstacles," they wrote. "Coordinating efforts among stakeholders will help to advance film recycling."
For instance, while multiple efforts are tackling the lack of automated film sorting in North America, none are focusing specifically on the cost increases associated with the necessary washing and drying of film flowing through MRFs (this can add $200 to $400 per ton to the cost of reclaiming the film).
More stories about film