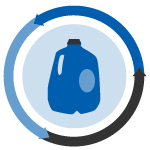 A tech company wants to bring "smart" technology into caps and closures, and a carpet stewardship bill is signed into law in California.
Global reverberation: Hurricane Harvey shut down more than half the U.S. production and nearly one-quarter of global production of linear alpha olefins, which are used to make PE. According to market analysis from IHS Markit, the production downtime has created a "serious supply chain challenge" for chemical producers.
Curbside changes: Three cities have recently added food-service packaging to the list of recyclables they collect, allowing 460,000 U.S. households to begin recycling those materials at the curb. In a press release, the Foodservice Packaging Institute describes how Washington, D.C., Chattanooga, Tenn. and Louisville, Ky. made the decision to collect the materials, which include plastic cups and to-go containers.
Design shift: China's scrap import restrictions could force design changes to facilitate recyclability, according to a leader at the Ellen MacArthur Foundation. In an interview with ChinaDialogue, Jocelyn Blériot says it is "highly likely" the ban will lead companies to rethink the design of products that have no downstream outlet at their end of life.
New technology: A French PET depolymerization company has announced the initial success of a pilot project producing PET from materials derived through its bio-recycling process. According to a financial and operating report, CARBIOS plans to spend some 3.6 million euros to initiate the industrial stage of the enzymatic depolymerization process.
Rug rules: California Gov. Jerry Brown has signed a bill mandating that carpet stewards achieve a 24 percent recycling rate and discouraging the use of incineration. Assembly Bill 1158, which was previously covered by Plastics Recycling Update, was signed into law on Oct. 14.
Update, don't scrap: Iowa's container deposit legislation should only be modified if it continues to promote recycling and discourage litter, according to the editorial board of a local newspaper. The Sioux City Journal writes it is "open-minded to revisiting the law so long as the focus is on identifying something better and not simply on getting rid of what we have."
Cap of the future: No longer content with the traditional bottle cap, a tech company wants to bring the packaging materials into the world of "smart" technology. Plastics News reports Water.io has developed electronic sensors that can be installed in caps to provide data such as how many times it is opened or the level of liquid remaining.
Lesson in contamination: After a disagreement with her fiance over which materials should go into their local recycling program, a columnist for the San Francisco Chronicle took a tour of the city's Recology materials recovery facility (MRF) to learn the truth. Caille Millner discovered that although half the material going into the garbage can could actually be recycled, contamination is also a major problem for the MRF. The facility was Resource Recycling magazine's MRF of the Month in September.
Material reduction: Packaging changes for the iPhone 7 allowed Apple to use 84 percent less plastic in producing the materials. Tech Insider writes that the changes included using just one plastic tray inside the device's box instead of two and replacing a non-reusable plastic headphone case with a cardboard holder.