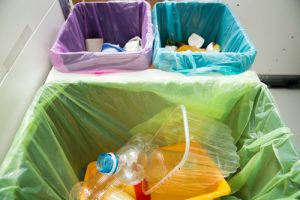 Three groups on two continents will work to create one harmonized process for testing the recyclability of plastic products.
The Association of Plastic Recyclers (APR), Plastics Recyclers Europe (PRE) and the European PET Bottle Platform (EPBP) announced they have formed the Global Plastics Outreach Alliance. Their goal is to make it easier for brand owners and packaging producers to test their products for recyclability in North America and Europe.
"As consumer brand companies expand their focus on sustainability, we identified differences between our protocols, which may require a company to conduct three separate tests to achieve the same recyclability designation," Steve Alexander, president of U.S.-based APR, stated in the release. "We hope to clarify those differences and align all segments of our testing protocols."
He also noted the effort will allow the groups to contribute data to the New Plastics Economy (NPE) program of the Ellen MacArthur Foundation.
Kara Pochiro, APR's communications director, told Plastics Recycling Update the three organizations' design guides and testing protocols are mostly aligned.
"The basics are very similar," she said. "It is more about aligning the process for how the tests are conducted and how they are reviewed."
She sees the effort as a big step forward, she said.
"The ultimate goal is that companies will only have to complete one test for the U.S., EU and beyond," she said.
More stories about industry groups