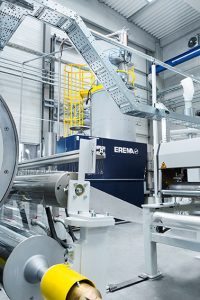 A crystallization dryer from EREMA allows PET reclaimers to retrofit their existing lines to sell into the higher-value food and drink packaging sectors.
By installing the company's Multi-Purpose Reactor (MPR), a reclaimer can decontaminate and dry PET before it enters a third-party extruder. The product is marketed as the entry model into the food-grade market.
"The MPR is becoming increasingly popular for customers who have a conventional crystalliser and pre-dryer and are confronted with long process times and high operating costs," Christoph Wöss, business development manager for the bottle sector at EREMA, stated in a press release. "With energy consumption at only 0.1 kilowatt hour per kilogram, the MPR is a crystalliser and pre-dryer at the same time, making it the economically interesting alternative."
Input materials can include washed PET bottle flake, ground PET flat sheet and virgin PET material. In the first zone of the vacuum reactor, moisture from the outer layer of the PET flakes is removed.
In the second zone, the temperature rises from 20 degrees to 190 degrees celsius, which opens up the polymer structure and begins the process of removing migration substances and internal moisture.
In the third zone, the flake decontamination process take full effect. Residual moisture is reduced to under 0.05 percent and the crystallized, dry, hot food-compliant PET flakes are ready for processing in extruders.
Other benefits of the system include an 80 percent increase in the bulk density of the input, reduction in humidity and a possible slight increase in internal viscosity, according to EREMA. Additionally, the acetaldehyde content is limited to one part per million or lower, the final product is free of gels and the vacuum treatment eliminates the effects of oxygen, producing better color.
EREMA offers a range of MPR sizes, from the MPR 1300/80, which can process 500 kilograms per hour, up to the MPR 2000/120, which can process 2,000 kilograms per hour.
"The list of alternative suppliers of these PET extruders without pretreatment is long and tempting," Wöss said. "However, later investments in dryers or high-maintenance decontamination modules reduce the profits of the PET producers in the end."
More stories about technology