Chemicals giant Dow has developed an adhesive that allows flexible film packaging with layers of PET and aluminum to be replaced by all-polyolefin films, which are easier to recycle.
The chemical company's ADCOTE L86-500 barrier adhesive would allow a coffee pouch made from layers of PET/aluminum/PE to be replaced by BOPP/metallized BOPP/PE, said Uta Ünal, business communications manager for the adhesives area of Dow Packaging and Specialty Plastics.
"This is important for later recyclability as technically they can be recycled together, whereas PET, metallized PET, aluminum laminated with PE cannot," Ünal said.
When metallized plastics are melted, the extremely thin layer of aluminum – about 0.000040 millimeters thick – is easily and totally dispersed, said Daniele Vinci, application technology leader adhesives at Dow Packaging & Specialty Plastics.
"Therefore, the film is recyclable as if there is no 'metal' on it," he said. "Aluminum foil, in contrast, doesn't disperse and plugs up the extruder when it hits the melt filtration."
The adhesive was first introduced to the European market at this year's Interpack show in Dusseldorf, Germany in May, according to a Dow press release. Dow demonstrated the technology with all-polyolefin flexible packaging for coffee, cereal, chips, dry pet food and wet wipes. Dow, which has since merged with DuPont to become DowDuPont, plans to bring it to the North American market later this year or early in 2018.
Vinci provided more details to Plastics Recycling Update on what the advancement means for recycling.
Plastics Recycling Update: What is this new ADCOTE L86-500 barrier adhesive technology all about?
Vinci: Recently introduced at one of the world's largest shows for packaging, Interpack, Dow's innovative ADCOTE L86-500 barrier adhesive enables the replacement of PET/aluminum/heat seal-PE packaging structures with an all-polyolefin solution that is easily recyclable in existing processes. This brand-new adhesive solution will help to maximize resource efficiency, favorably influence packaging cost, enhance recyclability and optimize the shelf life of food packaging.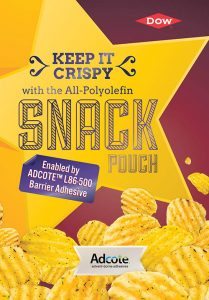 When was Dow's new barrier adhesive technology developed?
The technology is the result of about four years work of Dow's technical and R&D specialists.
Is the technology being used in pouches that are for sale currently on store shelves?
We have targeted selected development partners to introduce the technology to converters after the official product launch at Interpack 2017, which happened earlier in May. The introduction was very successful and we are receiving a great interest from the market. Currently, we are working with a number of partners to put this technology on the store shelves in 2018.
Can the technology be used for frozen food pouches and refrigerated pouches?
Yes, it can be used for both applications.
Does it preserve highly oxygen sensitive foods in room-temperature environments?
Yes, given that the laminate constructions containing the barrier adhesive have suitable oxygen permeability.
Does the adhesive affect the quality of the recyclate when the package is recycled?
In general, the influence of a thermoset polymer – in this case, the adhesive – should be negligible in concentrations below 5 percent. The adhesive will disperse in the melt phase without affecting too much the mechanical properties of the recyclates. In the past, mono-film represented about 80 percent of plastic packaging materials and multi-layer about 20 percent. After more than 10 years of successful growth in stand-up pouches, this proportion changed to about 70/30 percent. Sorters and recyclers control the proportion of mono-fractions and MPO-fractions to match the properties of the recyclates, depending on the needs of the final application.
More stories about technology