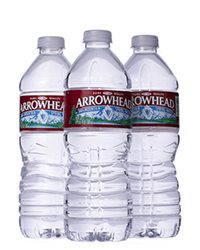 Nestlé Waters North America has begun adding the How2Recycle label to half-liter PET bottles of all its major U.S. bottled water brands.
By the fall, the company will have added the label to the Nestlé Pure Life, Poland Spring, Deer Park, Ice Mountain, Zephyrhills, Ozarka and Arrowhead bottles. The How2Recycle label will tell consumers to empty the bottle and replace the cap before putting it in a recycling bin.
"We cannot overstate the environmental importance of the 'Empty & Replace Cap' instruction on these bottles," Kelly Cramer, who leads How2Recycle at the nonprofit group Sustainable Packaging Coalition, stated in a press release. "It means fewer loose caps will have the potential to get into our waterways and oceans."
Replacing caps also prevents the caps from ending up as residue at materials recovery facilities (MRFs).
"By adopting the How2Recycle label, millions of consumers will now have a clear and consistent recycling guide on the side of the bottle – driving recovery of the bottle and a reduction in environmental impact," Nelson Switzer, chief sustainability officer at Nestlé Waters North America, stated in the release. "We hope our peers and other manufacturers of packaged goods will adopt the How2Recycle labeling standard to help stimulate a revolution in U.S. recycling."
Since its creation in 2012, the How2Recycle label has been adopted by more than 65 brands. Plastics Recycling Update reported on its growth last year.
More stories about brand owners