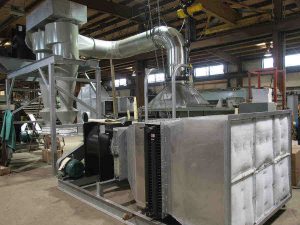 Equipment from New Jersey-based Witte Co. combines the functions of multiple pellet-processing machines into one unit.
The Witte 400 combines the company's vibrating plastic pellet classifiers with the vibrating fluid bed dryer and cooler. The Witte 400 is ideal for handling PE, PVC, PP, PS, nylon, polyesters, polyurethanes and other plastics.
The processing system's air classification system generates a uniform product through the removal of almost all minus-20-mesh fines, including those held by static, according to Witte. It also removes "ribbons," "streamers" and "angel hairs." A wire mesh screen removes larger fines, and the traditional perforated deck separates any other oversized pellets.
The unit's cooling capabilities will quickly bring pellets from 220 degree Fahrenheit down to 120 degrees using ambient air. In terms of drying, residual moisture of up to 2 percent can be removed with ambient air if the pellet is 200 degrees or higher, while lower pellet temperatures may require heat.
The units are capable of drying nylon down to 0.05 percent moisture immediately after pelletizing, Witte notes.
The Witte 400 is designed for capacities of up to 14,000 pounds per hour.
The Witte Co. last year expanded its manufacturing facility in Washington, N.J. to meet growing demand. The family-owned company was founded in 1938.
More stories about technology