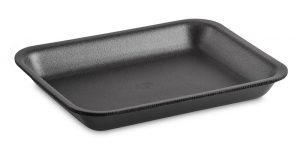 A tissue and packaging producer has introduced to the U.S. market a recycled content foam polystyrene tray.
Kingsey Falls, Quebec-based Cascades manufactures its EVOK foam PS food tray line with a minimum of 25 percent recycled content. The company says it's the first 25 percent recycled content PS foam tray made in North America.
The idea to produce the trays came out of a life-cycle analysis the company commissioned in 2011. Cascades concluded the end-of-life treatment of PS foam is not the most significant factor in considering the product's environmental impact. Instead, the analysis found, "it is the quantity of raw materials and type of energy used in their production."
With that in mind, Cascades developed the EVOK tray, which is used to package meats, fish, poultry and produce. The product was first launched in Canada in 2013, but this year expanded into the United States market. Cascades announced the U.S. manufacturing and availability of the trays in May.
Cascades estimates its recycled content usage results in a 15- to 20-percent greenhouse gas emissions reduction compared with using entirely virgin content.
More stories about PS