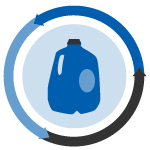 An environmental group leader in Hong Kong raises concerns about China's proposed import prohibition, and an agricultural plastics recycling program finds success in Minnesota.
Regional reaction: China's recently proposed ban on imported plastics and other recyclables could severely damage Hong Kong's scrap trading sector, according to one Hong Kong environmental group. In an op-ed in the South China Morning Post, Edwin Lau of The Green Earth notes that almost 27 percent of used plastic that heads to China comes through Hong Kong, and he suggests that Hong Kong leadership negotiate with Chinese authorities so that clean loads are still able to move to Chinese buyers.
Stockpiles Down Under: Low commodity values are leaving recycling companies in Melbourne, Australia with few viable downstream outlets for recovered materials. The Sydney Morning Herald writes that the situation has led to stockpiles, which, in turn, have been cited as a contributing factor in several high-profile blazes.
Flexible packaging growth: The market for pouches and other hard-to-recycle film packaging is predicted to grow an average of 7.9 percent each year for the next decade, according to a report by Transparency Market Research. In a press release, the firm notes the growth is due to a rise in consumption of packaged food, and it acknowledges the difficulty of recycling the packaging materials is "negatively impacting the market."
Manitoba milestone: Seventy percent of used drink bottles in Canada's Manitoba province were recovered in 2016, according to a report from the Canadian Beverage Container Recycling Association. The report describes the work carried out through the group's Recycle Everywhere program and states it has led to a 28 percentage point increase in the recycling rate over six years.
Ag plastics recycling: The Minneapolis-based Star Tribune newspaper writes about an agricultural plastics collection and recycling program run by Arkansas-based Revolution Plastics. The recovered films are being recycled into products such as garbage bags, which, the paper notes, a Minnesota county and parks district are now purchasing. Plastics Recycling Update published an in-depth story about the program in April.
Bottle reclaimer closes: Israel is set to lose its only plastics bottle recycling plant. According to the Haaretz newspaper, the owner of Aviv Recycling says his company is being undercut by Turkish reclaimers, which pay lower wages and face fewer environmental regulations.
Marine debris briefing: The head of the Marine Debris Program at the National Oceanic and Atmospheric Administration (NOAA) recently testified to Congress about the marine debris problem. The Cordova Times, a tribally owned newspaper in the small Alaska town of Cordova, published excerpts from the presentation by Nancy Wallace.