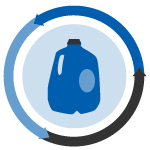 The American Chemistry Council responds to the latest study quantifying plastics production and recycling, and San Diego plans to spend $90,000 per year to recycle PS food-service containers.
Pyrolysis emissions: Plastics-to-fuel facilities generate very low emissions compared with food processing, automobile manufacturing and other industries, new research has shown. A report commissioned by the American Chemistry Council (ACC) found that typical pyrolysis facilities produce emissions low enough that they fall below the U.S. EPA's permitting requirements.
Report reaction: The ACC is also responding to a recent study that found just 9 percent of all plastic manufactured throughout history has been recycled. In a statement, the group said it welcomes the report and highlighted the materials recovery efforts that the industry supports, including the Wrap Recycling Action Program, Materials Recovery for the Future, Keep America Beautiful and The Recycling Partnership.
PS plans: The City of San Diego voted to accept PS food-service containers in its curbside recycling program rather than ban the materials, and now the details are being worked out. The Voice of San Diego nonprofit news organization reports the city will spend $90,000 per year to recycle the low-value materials, trucking them to a specialized sorting facility in Los Angeles County.
Carpet considerations: A business sustainability activist has weighed in as the carpet stewardship organization representing manufacturers in California faces hurdles in meeting requirements set by the state. In an op-ed for GreenBiz, Conrad MacKerron of As You Sow calls for changes to California's program and advocates for fixing or replacing Carpet America Recovery Effort (CARE), the carpet stewardship group.