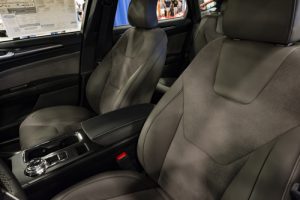 Experts shared a broad range of ideas linked by sustainability in the plastics industry during the Refocus Sustainability and Recycling Summit last week.
The Plastics Industry Association-hosted conference followed two trajectories, "Sustainable Tech & Engineering" and "Sustainability in Manufacturing."
Here are some highlights from sessions at the 2017 event, which took place June 27-29 at the Rosen Shingle Creek hotel in Orlando:
– The conference opened with a keynote presentation by Debbie Mielewski, senior technical leader of sustainable and emerging materials for Ford Vehicles. Ford has experimented with seat fabric made from 100 percent recycled content, gaskets and seals made from 25 percent post-consumer recycled tire content and 17 percent bio-based content from soy beans, textile recycling for noise absorption material and more. For the future, the company is looking into the feasibility of making car parts from recycled ocean plastics, incorporating recycled tires into foam for head rests and expanding its current sustainable materials usage.
– Kathy Xuan, president of PARC USA, described the changing nature of the plastics recovery industry. She pointed to China's Green Fence, National Sword and possible upcoming material imports ban as indicating the "new era of the recycling business." She said repro, processed material, clean and dry plastic flakes ready to enter the production line are all that will be allowed into China. Unprocessed recovered materials will no longer have China as a downstream. "The door is going to be shut, certainly," Xuan said.
– Steve Wong, chairman of Fukutomi and executive president of the China Scrap Plastics Association, echoed those sentiments. He described the impact National Sword has had on imports into China, and the ramifications of a materials ban in the future, but also referred to it as an "opportunity for recycling" in the U.S. He added that other Southeast Asian countries are beginning to reject more low-value scrap materials due to rising tariffs as well as a growing "cherry-picking" attitude for recyclables.
– Leonore Adams, safety, environment, and sustainability manager at Amcor Limited, described Amcor's annual "materiality assessment," in which the company engages with its stakeholders, customers, suppliers, industry groups, NGOs and more, to determine Amcor's sustainability position and future direction. The results are compiled into a materiality "matrix," Adams explained, which doesn't change heavily from year to year. The most recent matrix, compiled just a month ago, shows innovation and product design, sustainable materials management, the circular economy and post-consumer waste as current important areas of focus for Amcor.
– Kiersten Muenchinger, director of the product design program at the University of Oregon, presented the results of research into the perceptions people hold about a product's "sustainability." Respondents were asked to examine a handful of cups made from different virgin plastics, and rate how they judged the sustainability of the product based on various traits. Four attributes emerged as driving perception of sustainability: "natural," "raw," "durable" and "degradable." Notably missing from the list? "Recyclable." Muenchinger offered a few possibilities for the finding, including that it may not rate highly because a product's "recyclability" doesn't necessarily mean it will be recycled.
– Paul Maguire, CEO of RiverdaleGlobal, talked about a new additive the company is investing in, created by TimePlast. Developed by TimePlast CEO Manuel Rendon, the additive aims to "pre-degrade" plastic, Maguire said. It is introduced during the manufacturing process, and chemically shortens the amount of time it takes for plastic to degrade into wax, Maguire said. He pointed to the plastic that does not get recycled and turns into pollution, and particularly targeted single-use plastic packaging that is used and discarded fairly quickly.
– Patrick Krieger, assistant director, regulatory and technical affairs for the Plastics Industry Association, gave an overview of bioplastics and how they fit into the overall plastics market. Bioplastics are either bio-based (made from a renewable resource), bidegradable (able to degrade through biological action in a defined environment into carbon dioxide or methane), or both. Last year, 4 million tons of bioplastics were produced globally, which represented slightly less than 1 percent of the overall global plastics market, according to data from European Bioplastics, an industry organization. The group projects bioplastics will grow to more than 6 million tons produced annually by 2021. In the next few years, Krieger said, growth is anticipated in bio-based PET, and the commercialization of bio-based PEF is anticipated to come on-line.
More stories about industry groups