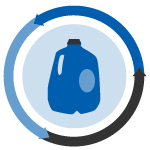 Maine's "nips" saga takes another turn with the governor's veto, and a handful of recycling groups and companies have issued statements in the wake of the Trump Administration's decision to withdraw from the Paris Climate Accord.
Industry reacts: Several members of the recycling industry issued public statements following President Trump's announcement last week that the U.S. will withdraw from the Paris Climate Accord. Among them were The Recycling Partnership, recycled PET producer CarbonLITE, non-profit organization Keep America Beautiful and the International Solid Waste Association.
Nips showdown: Maine Gov. Paul LePage has vetoed a bill that adds small liquor bottles known as "nips" to the state's container deposit program, but state lawmakers have enough votes to override his veto. The Bangor Daily News reports LePage opposed the bill due to its cost of implementation and belief it would be ineffective. LePage previously announced he would oppose the bill, and that if the Maine Legislature overrides his veto, he would consider banning nips from shelves statewide.
Exceeding requirements: British Columbia's container deposit program achieved a 78 percent redemption rate in 2016, according to an annual report. That was slightly higher than its legally mandated 75 percent redemption requirement but did not quite reach the 81 percent target set by stewardship group Encorp Pacific.
On a mission: A boat made entirely from recycled plastic will travel the seas and perform beach cleanups along the way, as part of an awareness project. Kenyan media outlet The Standard reports the boat will be made from plastic bottles, bags and more than 200,000 recycled flip-flops, and it will sail along the coasts of Kenya, Tanzania, Mozambique and South Africa beginning in January 2018.
Internal discord: Trade association PlasticsEurope is having an internal debate over whether to support efforts to reduce consumer usage of plastic bags. According to PlasticsNews, a leader who supports the move likens it to the alcoholic beverage industry supporting responsible drinking campaigns, describing the debate as a question of putting health and the environment over business interests with the potential to give the plastics industry more credibility.
DIY skateboard: A university design student is recycling high-density polyethylene into skateboard decks and is working to make the process available to others. Phys.org reports the Brunel University London student has previously designed and built a plastic shredding machine, and his most recent project is an inexpensive press that heats the recycled plastic and shapes it into the skateboard deck.