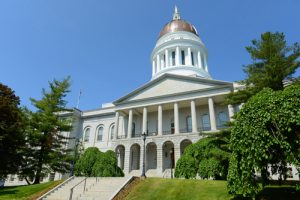 Maine's lawmakers and governor are fighting a big battle over small containers. The legislature wants to place a deposit on liquor bottles called "nips," but Gov. Paul LePage is vowing to fight it.
As currently drafted, Legislative Document 56 would place a five-cent deposit on containers holding 50 milliliters or less. Both chambers have already voted to approve the legislation with veto-proof majorities, although a final vote in the Senate is necessary on the latest version of the bill before it can be sent to LePage.
Lawmakers say the deposit would cut down on littering and encourage consumers to redeem the containers so they can be recycled. Nips are a growing segment of liquor sales in the Pine Tree State.
Susan Collins, president of the Container Recycling Institute (CRI), said data her group purchases indicates two-thirds of small containers holding 50 milliliters to 100 milliliters are plastic, and the remaining one-third are glass.
The Portland Press Herald reports LePage is vowing to veto the bill, despite the fact it has already received a 32-3 vote in the Senate and 111-34 vote in the House of Representatives. A two-thirds vote of each chamber is required to override a veto.
LePage said that if the legislature overrides his veto, he'll work to delist nips so they can't be sold in the state, according to the Press Herald. Following the threat, an in-state bottler of nips has pulled its earlier support for the deposit legislation, according to the Bangor Daily News.
LePage said the bill will increase costs for businesses and cut funding to other state programs.
"This is yet another anti-business vote that threatens jobs, increases costs to do business and puts the state's financial health at risk," LePage said in a statement explaining his opposition. "Unfortunately, this kind of secretive backroom deal that burdens the taxpayers is what I've come to expect."
LePage has often been at odds with the Maine Legislature, where Democrats control the House and Republicans control the Senate. Earlier this month, lawmakers overrode a veto of a one-sentence bill they had sent the governor. The bill said, "The first Saturday in May is designated Maine Community Litter Cleanup Day, and the Governor shall annually issue a proclamation inviting and urging the citizens of the State to observe this day through appropriate activities such as removing litter from roads."