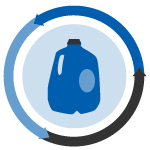 Researchers develop new chemical and mechanical methods of processing difficult-to-recycle materials, and a patent is awarded for twin-screw extruder design improvements.
Pouches to planks: DuPont and a South African group called Rural Waste Poverty Alleviation Solutions have researched better ways to recycle multi-layer packaging into composite lumber products, according to PackWorld.com. The groups used compatibilizers and coupling agents in the mixture of multi-layer pouches and sawdust to make building planks that conform to South African building codes.
PET foaming line: A company has installed Canada's first extrusion line for converting recycled PET into foam for use in wind turbine blades, Plastics News reports. Armacell Canada spent more than $6 million on the Brampton, Ontario project, which will produce up to 1.2 million cubic feet per year of foam. Most of the company's foams go into wind turbine rotor blades, each of which consumes the equivalent of 50,000 PET bottles.
Breaking down carbon fibers: Researchers at Washington State University have developed a new chemical method for recycling carbon fibers. According to rdmag.com, they are using mild acids as catalysts in liquid ethanol at a relatively lower temperature to break down the materials, an approach that preserves the carbon fibers and resin so they can be recycled. Recycling International reports the technique could help reduce waste from airplane manufacturing.
Diaper recycling facility: Procter & Gamble (P&G), Suez and Dutch waste company AEB are working on a project in the Netherland to recover plastics, cellulose and super-absorbent polymers from used diapers. Recycling International reports P&G already runs a pilot plant in Italy, and the facility planned for the Netherland will begin with an initial capacity of 10,000 metric tons per year.
Fluorescent sortation: It's often difficult for sortation systems to detect what a container was used for prior to recycling. Reuters reports British researchers are developing a system that applies phosphor to container labels and uses fluorescent light during sorting to automatically identify whether a recovered plastic container was for food and drink. The research joins other recent efforts to visually identify food-grade containers during processing.
Extruder improvement: Lebanon, Ore.-based extruder company Entek was awarded a patent on Feb. 21 for its self-aligning shafts and couplings. Originally introduced by Entek on its QC 3TM twin-screw extruders in 2015, the self-aligning concept was designed to ensure the installation of the screw shafts into the couplings was done easily and correctly, according to the company.