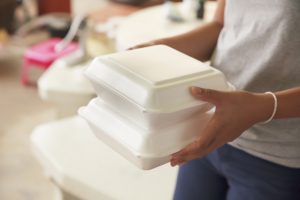 In the latest chapter of its ongoing expanded polystyrene saga, New York City will again ban foam food-service packaging. City officials have determined it "cannot be recycled in a manner that is economically feasible or environmentally effective."
The city's Department of Sanitation (DSNY) released its new findings May 12, and the ban is scheduled to take effect in November. In 2015, the city lost a court battle over its earlier EPS ban, which was overturned as a result of the decision. The city has crafted the new 43-page ban report in the hope that it will withstand legal scrutiny.
The latest justification report by DSNY Commissioner Kathryn Garcia details a lengthy process of evaluating EPS recycling potential, citing a host of case studies, reports by industry analysts and site visits to the facilities that would be involved. She determined EPS recycling does not pencil out economically, contaminates the recycling stream, reduces a program's recycling rate, and will, in general, create an expensive hassle for the city.
"After designating food-service foam (as recyclable), numerous municipalities end up disposing of the material at each step in the recycling process," Garcia wrote. "There is no basis to expect that New York City's experience will be any different."
Meanwhile, two opposing New York City Council bills also address EPS, one proposing a separate ban on the material and the other designating it as recyclable in the curbside stream. A four-hour hearing on the latter bill was held the same day the city's administration announced its new ban.
Lengthy buildup
As political momentum for an EPS ban in NYC was building in 2013, EPS product manufacturer Dart Container lobbied against the proposal and suggested a curbside recycling option for foam. Dart pledged to buy and recycle the recovered material.
City officials at the end of 2013 passed a law imposing a delayed ban. The one-year delay was meant to give the EPS industry time to determine an effective way to recycle the material. Dart proposed to have it collected curbside by DSNY, sorted at Sims' new Sunset Park materials recovery facility (MRF) in Brooklyn and purchased by Indianapolis reclaimer Plastic Recycling Inc. Dart offered to buy new equipment for the Sims' and Plastic Recycling Inc. facilities.
Unconvinced, city officials in early 2015 banned EPS food-service products citywide. Leaders cited the long timeframe needed to implement the additional infrastructure and questioned Plastic Recycling Inc.'s ability to process polystyrene products.
In May 2015, a coalition led by Dart sued the city, claiming the ban violated a "clear statutory mandate" in the 2013 law to implement a collection system if recycling EPS was viable. In September 2015, New York State Supreme Court Justice Margaret Chan overturned the ban and ruled there was "abundant evidence showing a viable and growing market for not just clean EPS but post-consumer EPS material." The city appealed, but a higher court rejected the appeal in December 2015.
What's changed
Although DSNY reached the same conclusion it did in 2015, the report points to language in Chan's ruling that the new findings aim to satisfy. The previous findings failed to "clearly state the basis of (DSNY's) conclusions," according to the court ruling. In particular, DSNY's claim that there are no sustainable end markets for EPS was not "adequately explained," the ruling said.
"In accordance with the Court's opinion, DSNY undertook additional research and analysis to update its determination," according to the new report.
Whether the ban will hold up to another appeal remains to be seen. According to New York radio station WNYC, Dart plans to again fight the ban.
News
,
Top stories
Tagged
bans
,
challenging materials
,
curbside
,
EPS
,
lawsuit
,
legislation
,
manufacturers
,
municipality
,
recyclability
,
U.S.