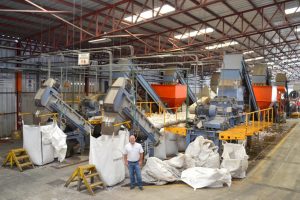 When recycling processor Invema switched from a high-speed friction washer to an updated system relying on boilers and chemicals, something unexpected happened: Energy usage decreased by 20 percent.
The technology was one key part of an equipment package enabling the Honduras-based recycling company to begin producing food-grade PET pellets and sheets. George Gatlin, owner of Invema, spoke about his company's leap forward in capabilities during a Latin America session at the 2017 Plastics Recycling conference, which was held in New Orleans in March.
Invema's investments were driven in part by increasing competition in Central America, where many reclaimers began investing in grinding and washing equipment, Gatlin said. But they're realizing that, with current market prices, they can't survive simply selling non-food-grade washed flake. "So we are seeing definitely in the region more people invest in the next step, be it sheet, pellet, fiber, strapping," he said. "That's creating competition."
Founded by Gatlin in 1994 as a aluminum can recycling company, Invema today recycles metals, cardboard, car batteries, electronics and PET bottles. Now the largest PET reclaimer in Central America, Invema recently purchased lines for washing, pelletizing and producing sheet. The move helped the company diversify its products, Gatlin said.
"As we've seen the markets in the last two years – they've been terrible," Gatlin said. "By being diversified, we can add value to what we're doing and, more importantly, create stability to our suppliers."
Food-grade products
With financial assistance from the Washington, D.C.-based Inter-American Development Bank, Invema purchased and, in July 2016, installed the 3-metric-tons-per-hour wash line made by Herbold Meckesheim. It also bought Starlinger food-grade pellet equipment and a Starlinger food-grade sheet system. The extrusion equipment was all installed during the first quarter of 2017. Gatlin said his company chose the equipment after consulting with Plastics Forming Enterprises, an independent testing and R&D company based on New Hampshire.
Invema is currently producing about 4.4 million pounds of washed PET flakes each month, Gatlin told Plastics Recycling Update in late April. Of that amount, about 1.3 million pounds will be recycled into food-grade pellets and 1.2 million pounds will be recycled into food-grade sheet. The remaining flake will be sold on the market.
Invema is currently in the process of obtaining approval to sell the pellets to major beverage brands, including Coca-Cola, Gatlin said. They expect to get the OK by around July. Invema is in the process of sending samples from the sheet line to various thermoforming customers, mostly in the U.S.
Currently, the company is selling flakes washed in the Herbold system primarily in the U.S. to the rPET resin, sheet, fiber and strapping industries, he said.
Herbold, a German company, issued a press release about the installation, noting that Invema is producing recycled post-consumer plastic that meets U.S. Food and Drug Administration standards. The press release gave a basic description of the Herbold equipment process: PET bottles are first pre-sorted before they're size-reduced in two Herbold granulators, each with a capacity of 1,800 kilograms per hour. Then, the flakes are washed cold and hot, dried and sent to flake-sorting equipment.
Invema has also invested in plastics recycling laboratories at its headquarters, which sits on about 50 acres in the city of San Pedro Sula, in northern Honduras. Specifically, the company now has a flake lab to measure PVC content, color, density and humidity. But the bigger-ticket item was a pellet lab with gas chromatography equipment. That lab measure limonene, benzene, acetaldehyde and viscosity.
"So it's been a very educational last two years," Gatlin told the audience.
From residue to resin
Gatlin also described Invema's efforts to tackle a tricky stream: the caps, rings and labels that often constitute residue from a wash line. For a long time, Invema was simply disposing of this material.
Then, the company also installed a Herbold polyolefin wash line to rewash the caps, rings and labels and sort the materials. The sorting of labels from rings and caps is done with hydrocyclone separation steps from Herbold. Hydrocyclones work similar to float-sink tanks to sort plastics by density but use a feeding pump and rotational forces of moving water to aid in separation.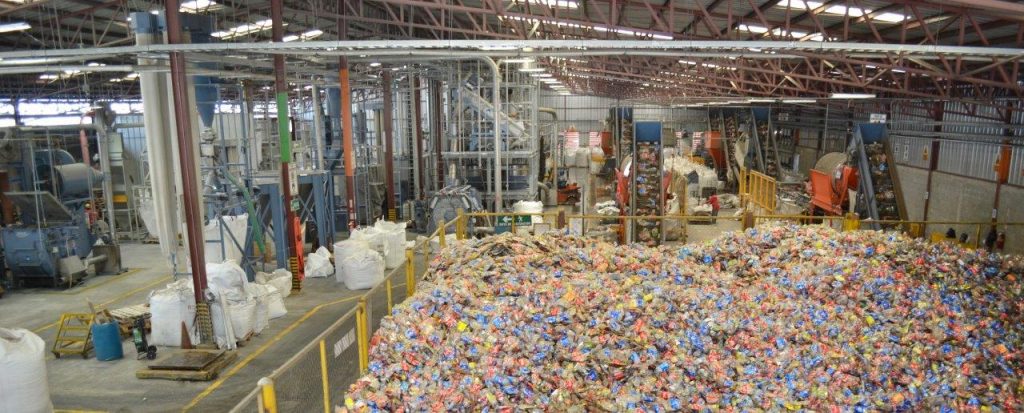 The material is then send into an NGR extruder line, Gatlin said. That transforms the BOPP labels into PP pellets and the caps into HDPE pellets. Today, the company is producing about 150,000 pounds of PP pellets and 400,000 pounds of HDPE pellets per month, Gatlin said.
"It hasn't been easy. It's a very, very complicated thing to do, and we're still refining it," he said. "But at least we're able to use the whole bottle, and that's great."
At the end of the Latin America session, an attendee asked what advice the speakers would share. Gatlin suggested investing in the best technology possible.
"It's expensive at the beginning, but at the end you're buying experience and you're buying efficiency," he said. "And if you have the right tool, then you'll be able to have the right – let's calls it weapons – to be able to go out and fight and compete and succeed."