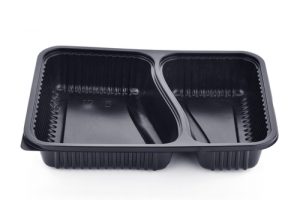 The recycling of non-container plastics is receiving more and more attention in Europe. A key reason for this interest is the rising tonnages of pots, tubs and trays being collected.
Experts took to the stage to discuss this topic during Plastics Recycling Show Europe, held March 29-30 in Amsterdam. Industry professionals from the Netherlands, United Kingdom and France spoke during a session focused on the recycling of pots, tubs and trays.
One of those speakers was Jean-Marc Van Maren, who is head of Van Maren Systems, a recycled plastic pallet producer. Van Maren noted that of the 250,000 metric tons per year of plastics being collected in the Netherlands, some 100,000 metric tons are mixed plastics. One estimate suggests this material will reach six million metric tons annually in Europe within seven years.
Van Maren feels many things need to change to handle this rising tide. For example, he said "we need specifications and we need more industry coordination."
Stuart Foster, the CEO of Recoup in the U.K., also had recommendations to offer. He pointed out that of the 500,000 metric tons per year of mixed plastics collected in the U.K., about 160,000 metric tons consists of PP pots, tubs and trays. Most of this material goes to five large plastics sorting plants, with nearly all the recovered resin being used in the U.K.
To grow this system, Foster said, more attention is needed on design for recyclability, although he suggested brand owners "are starting to listen." He'd like to see more focus on handling PET pots and trays. He called for an extended producer responsibility (EPR) system for the material, and said the value chain needs to be created for this packaging.
A key way for non-bottle plastics to be handled in France is to "modernize the sorting process," said Vincent Colard, the eco-design engineer for Eco-Emballages.
Already 15 million residents are provided all-plastics collection, with the material going to 36 sorting plants. These programs are seeing about five pounds per person annually. Colard recommends fewer MRFs should operate (the country has 240 plants today) and these should become more mechanized.