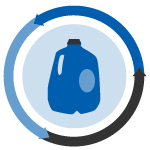 Drones patrol Britain's beaches in search of shoreline plastics, and prices rise in the U.S. for recovered HDPE and PET.
Fishing for litter: Waste Free Oceans has been researching the use of fishing boats to collect plastic litter in rivers, bays and oceans. For example, fishing boat owners are encouraged to trawl for litter as they move to and from fishing grounds. Boats can collect from two to eight metric tons on each run, and the plastics are then processed for use in various products, including backpacks and new bottles.
Deposit scheme: A Michigan man has admitted he redeemed deposits for at least 10,000 non-refundable bottles purchased in Indiana, effectively stealing money from Michigan's deposit program. In a news release, Michigan's attorney general writes that 70-year-old John Woodfill pleaded guilty to redeeming the ineligible bottles, will forfeit his van and trailer used in the scam and owes $400,000 in restitution to the state.
Drone detection: British beaches are being patrolled for ocean plastics by drones outfitted with cameras, which upload the images to the internet for identification by volunteers. A Deutsche Welle video profiles the beach cleanup effort, which eventually aims to "teach" drones to identify shoreline plastic without human assistance.
Boat covers: A Minnesota regional collection center is expanding a program to collect plastic wraps used to cover boats. The Echo Press newspaper reports that after a successful first effort in April and May 2016, a municipal recycling center in Alexandria, Minn. will add June to the months it accepts the white and blue wraps this year.
Prices rise: Plastics reclaimers have pushed the purchase price for HDPE containers higher in April, with the current level being up nearly 10 cents per pound over the February value. Buyers of PET bales also moved prices higher, to about 14 cents per pound (truckload of bales picked up in the eastern U.S.)
Deposit lives: Iowa's container deposit program is expected to survive the legislative session, according to The Gazette newspaper. Both House of Representatives and Senate measures to repeal the 5-cent deposit remain in committee, and one bill's sponsor said he drafted the legislation to spark conversations about the deposit program, not with the expectation it would pass this year.
Carpet collection: A landfill in Kern County, Calif. has set up a collection site accepting carpet for recycling. Local TV news station KBAK/KBFX Eyewitness News reports the new facility comes four years after carpet recycling became required by law in California.
Returns skyrocket: During the first weekend of a newly doubled Oregon container deposit, residents flooded redemption centers to claim their 10-cent refunds, according to local CBS affiliate KTVL News, which covers the southern Oregon city of Medford. The News-Review newspaper reports that the Oregon Beverage Recycling Cooperative, which operates the deposit program, expected an immediate increase in traffic due to its decision to pay 10-cent refunds on containers purchased when the deposit was still just 5 cents.