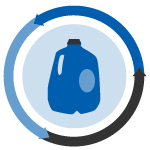 China's border crackdown creates a struggle for survival among legitimate recycling companies, and Arrowhead Mountain Spring Water uses more rPET.
Scrappers struggle: China's border crackdown on illegal imports of scrap plastics has led to greater survival pressure for some legal recycling companies. According to an update from ChinaReplas, businesses in the Guangdong province are feeling the impact of more inspections, which has caused delays and stranded goods.
Searching for service: Montgomery, Ala. continues to have no residential recycling option, since a mixed-waste processing facility closed nearly a year-and-a-half ago. According to the Montgomery Advertiser, the city is looking for another company to operate the facility, which was run by now-bankrupt Infinitus Renewable Energy Park at Montgomery (IREP Montgomery).
Residual chemicals: Flame retardants are being detected in e-plastics that have been recycled into new products, according to a new report. The Guardian writes about the research by CHEM Trust, which found brominated flame retardant chemicals are showing up in children's toys made from recycled plastic formerly used in electronics, presenting health risks.
Petroleum substitute: A Berkeley, Calif. startup has come up with a bio-based polymer alternative similar to polyethylene and polypropylene. The U.S. Department of Energy profiles the work of Mango Materials, which uses methane as a feedstock and converts it into a biopolymer.
Bag group convened: Just weeks after New York state lawmakers blocked New York City from levying a 5-cent fee on single-use plastic bags, the state's governor has announced he's formed a task force to address plastic bag waste. Gov. Andrew Cuomo, who signed the bill blocking New York City's bag fee, said in a press release that the diverse coalition of experts will address the waste generated by the 23 billion plastic bags New Yorkers use each year.
Possible ban on bans: Lawmakers in Minnesota are pushing for a statewide ban on local plastic bag bans. The Echo Press newspaper reports that a committee in the state House of Representatives voted 10-7 to disallow municipalities from enacting ordinances banning single-use plastic bags, and a Senate committee took testimony on the issue last week.
Recycled content climbs: The vast majority of Arrowhead Mountain Spring Water bottles are made with 50 percent post-consumer recycled PET, parent company Nestle recently announced. The recycled content is sourced from CarbonLite, which counts Nestle among its largest customers and recently announced a new rPET processing facility will be built primarily to supply the bottled water giant.