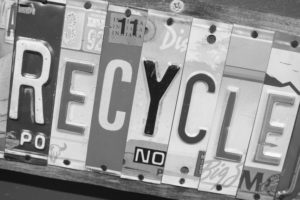 Western states are often seen as trendsetters in materials recovery. But the latest figures from that part of the country show drops in diversion rates.
It's difficult to pinpoint the exact reason for the statistical slippage. But one major factor has been a slowly improving economy, which has led to more waste generation overall.
Effects of improved economy
Data released last month shows residents in Oregon are generating more waste and recycling lower percentages of it, particularly in the areas of metals, plastics and electronics.
The recovery rate for 2015 was 46.5 percent, down from 47.2 percent in 2014. The number has dropped every year since 2012, when it hit a high of 49.7 percent.
"We saw an increase in recovery, but we also saw an increase in disposal so that means people are using more overall," said Peter Spendelow, solid waste policy analyst with the Oregon Department of Environmental Quality. "And I didn't see really a good trend on what the changes were."
Spendelow said Oregon seems to be showing the classic signs of coming out of a recession. People are buying and using more stuff. For example, the amount of paper fiber recovered in 2015 was up 4 percent from the year before. The majority of that was cardboard.
"Cardboard went up and that would be something you associate with an improved economy, more shipping and stuff like that," he said. "People are doing more purchasing, more shopping over the internet … and an increased amount of cardboard [is] recovered that way."
What Spendelow can't say is if the increase in generation is due to an increase in construction and demolition (C&D) material, which is also a sign of an improving economy. The state is currently in the middle of a waste composition study, something it hasn't done since 2009-2010. Once that analysis is complete, the state will have a better understanding of exactly the kind of materials people are creating and disposing.
Role of commodity prices
Oregon's neighbor to the south, California, saw its recycling and composting rate drop to 47 percent in 2015 after hovering near 50 percent the previous three years.
Lobbying group Californians Against Waste attributed the decrease to a drop in commodity prices, the closing of recycling centers and cheap disposal alternatives.
Officials with the California Department of Resources Recycling and Recovery (CalRecycle) agree, with one telling a local newspaper dumping recyclable materials into landfills might be cheaper, but undermines all the benefits of recycling.
California has a goal of reaching a 75 percent recycling, composting and source reduction rate by 2020. Earlier this year, Mark Oldfield, communications director for the California Department of Resources Recycling and Recovery, said in an interview that one strategy to help the state move toward that goal would be investing in local markets for material so the effects of global economic forces are not so pronounced.
"If we can build a better infrastructure here in California so that we are reusing more of the materials right here, we do somewhat inoculate ourselves from these global commodities upswings and downswings."
Valuable material in Colorado landfills
Colorado is experiencing the same things as California and Oregon. Generation continues to rise while diversion rates decrease. Colorado's rate in 2015 was 11.6 percent (21.4 percent if scrap metal is included). Colorado hit a high of 13.4 percent in 2012. Since then, generation has gone up more than 1 percent and the diversion rate has gone down.
This past summer, Colorado drafted a solid waste and materials plan. The report found the state's landfills to be inadequate based on three criteria: design and operation, groundwater monitoring and closure requirements. The report also recommended more recycling as a way to save money and reduce tonnages in the landfills. The report found the state is burying $267 million worth of recyclable materials every year.
The report also blamed lower commodity market values, lightweighting of products and a shift in packaging materials to the decline of diversion rates when calculated by weight.
The plan made several recommendations on how to increase diversion rates, including setting realistic goals (increase the diversion rate by 5 percentage points in five years, 12 percentage points in ten years and 22 percentage points in 20 years). It also recommended officials prioritize composting, identify strategies to address the cheap costs of landfills; develop plans to include C&D materials; and improving recycling in rural parts of the state with incentives, partnerships and rebates.
Waiting on update in Washington
While the 2014 and 2015 numbers haven't been released yet, it wouldn't be surprising if the Evergreen State follows the path of California, Oregon and Colorado. In 2013, the recycling rate was 49.0 percent. That is down from the previous year's rate of 50.1 percent.
The 2013 numbers from the state also saw an increase in overall waste generation: The amount of material disposed of grew by 88,000 tons.