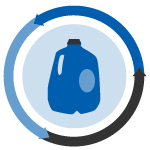 A facility near London is using a new baffled oscillation technology to separate PP and PE in a water tank, and a study says more rPET could be used in hot-fill containers.
The whys of difficult-to-recycle plastics: An article in Chemical and Engineering News takes an in-depth look at why producers make multi-layered plastic packaging that is unlikely to be recycled, and what critics say about it. The article explores the important roles each polymer plays in reducing food waste and increasing transportation efficiencies, while also acknowledging criticism that brand owners are failing to take responsibility for the end-of-life management of their packaging.
Chewing gum recycling: Most people probably wouldn't be surprised to hear the base of chewing gum no longer comes from tree sap and is, instead, synthetic. But, they might be surprised to hear Gumdrop Ltd., which specializes in recycling chewing gum into a product it calls Gum-Tec, is working with Teknor Apex Co. to produce compounds from gum that can be used in shoe soles, car bumpers, floor mats and more.
New PE-PP separation technology: Equipment using a baffled oscillation technology in water to separate PE and PP is now being used at a facility near London, Recycling International reports. The BOSS (Baffled Oscillation Separation System) from Scottish company Impact Solutions separates granulated plastics using oscillating discs, which force PE to the base of the tank while allowing PP to remain floating.
Flexible films sortation: A study from Resource Recovery Systems (RRS) explored the effectiveness of current-day sortation technologies in separating flexible film packaging for recycling. The trials showed current sortation equipment could be used to create flexible film bales, although more work needs to be done and downstream recovery challenges remain.
Overcoming polyolefin recycling hurdles: Three industry organizations have formed a new group in Europe aimed at boosting the recovery of polyolefin packaging. Among other tasks, the Polyolefin Circular Economy Platform will develop technological solutions in the areas of sortation, mechanical recycling and conversion technologies.
Flexible film progress: ExxonMobil and Thanh Phu, a Vietnam-based maker of flexible packaging, have collaborated to create a 100 percent PE laminated packaging. The flexible film, which can be recycled in traditional PE recycling streams, is designed to replace mixed-polymer packaging that is not widely recycled.
A case for more rPET content: A study from Plastic Technologies concluded that bottle manufacturers can use more recycled PET in hot-fill containers without adverse impacts. The study said levels of recycled PET over 50 percent can result in noticeable hazing and yellowing of the typically thicker hot-fill containers but performance isn't otherwise affected.
Efficient recovery of PP from mattresses: A company in the U.K. has designed a machine to automatically separate metals and plastics in mattresses so they can be recovered. The Furniture Recycling Group is using the equipment to cost-effectively remove PP, which it recycles into mattress pads, automotive felt and carpet underlay, MRW reports.
Plastic road envisioned: Three companies have signed a deal to develop a plastic road, which would use recycled plastics to make prefabricated roadway sections in place of asphalt paving. The technology could one day prove a market for low-quality mixed plastics that would otherwise be landfilled or burned.
Fluorescent markers project: The Active and Intelligent Packaging Industry Association (AIPIA) has written about a project to apply tracers to plastic packaging to ease sortation. The project, called Plastic Packaging Recycling using Intelligent Separation Technologies for Materials (PRISM), is exploring using fluorescent markers on containers so near-infrared sorters can separate them for recycling.