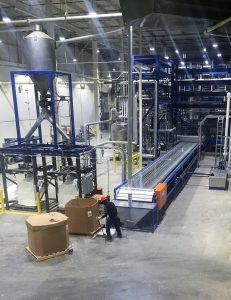 GreenMantra Technologies says its waxes, made from post-consumer plastics, can be used as additives to boost profitability for other reclaimers.
Founded in 2011, the Brantford, Ontario-based company recycles post-consumer polyolefins into waxes using its proprietary catalyst and patented depolymerization process.
The company now says testing shows its Ceranovus brand waxes serve as effective plastics-recycling additives, boosting extruder throughput or reducing energy usage, while also improving recycled pellet quality.
"We now have a really nice benefit on the processing side for the (reclaimers) increasing their throughput to save costs, but also a benefit to their customers to sell them a better-performing resin," Domenic Di Mondo, company technical director, told Plastics Recycling Update: Technology Edition.
In June, Plastics Recycling Update: Technology Edition wrote about the company's technology recycling PE and PP into industrial waxes made with 100 percent recycled content. GreenMantra uses what it describes as a partial, select and very controlled depolymerization approach to transforms post-consumer and post-industrial polyolefins into waxes and other specialty chemicals.
According to a presentation GreenMantra recently delivered to the Association of Plastic Recyclers (APR), the company has made and sold more than 1 million pounds of wax.
Processing benefits
The Ceranovus brand waxes are available in two types: A darker A Series wax, which is made of post-consumer material, and a white G Series wax made of post-industrial plastic. GreenMantra tested using its A120 wax as an additive at 2 percent, although the company plans to study the benefits of reducing the wax to 1 percent.
After in-house testing showed positive results using the wax in plastics extrusion, GreenMantra hired Amherst, N.H.-based Plastics Forming Enterprises (PFE) to do additional lab testing, Di Mondo said. GreenMantra also worked with Starlinger to use recoSTAR equipment to test the A120 wax as an additive in post-consumer HDPE natural bottle flakes produced by Envision Plastics.
They did three trials: a control test without A120 running the extruder screw at 125 rotations per minute, a test with A120 at 125 RPM and a test with A120 at 165 RPM.
The first trial, at 125 RPM, reduced back pressure by 10 percent and energy costs by 27 percent compared to the control run. In the second trial, with the 165 RPM screw speed, the A120 boosted throughput from 289 pounds per hour to 366 pounds per hour, a 27 percent increase. The resulting kilowatts of electricity per pound of plastic decreased by 21 percent.
Boosting recycled resins
Initially, GreenMantra envisioned using the wax as a processing aid, Di Mondo said. But the company tweaked it so it could also boost the quality of the recycled resin.
To test its impact on the plastic's properties, PFE used pellets made with 2 percent A120 wax to mold more than 100 bottles, Di Mondo said. PFE tested the HDPE with the A120 wax before and after molding, and it compared the A120-containing bottles to control bottles.
In many measures, including density, impact resistance, flexural modulus and tensile strength, nothing much changed. But the A120 boosted the melt flow rate by about 35 percent, making the plastic easier to mold. Additionally, it improved the elongation strength from 374 percent to 444 percent, resulting in fewer breaks when they were blow-molding bottles and fewer breaks during drop tests, Di Mondo said.
GreenMantra presented the results of the testing at an annual APR meeting in October in Charlotte, N.C. GreenMantra is a new member of APR.
Growing and selling
Ceranovus wax pellets are currently being sold in 45-pound bags and supersacks. GreenMantra announced in June it signed a deal with EMCO Chemical Distributors to distribute the products across North America.
GreenMantra estimates it makes financial sense for mid- to large-sized reprocessors to use the A120, although low-throughput producers could benefit if they're in areas with higher energy costs, Di Mondo said.
GreenMantra earlier this year commissioned its production facility, located along with a pilot plant and a research-and-development facility in Brantford. The production and pilot plants have a combined capacity of more than 5,000 metric tons per year.
The company wants to grow manufacturing around North America, as well as add to its product lines. For example, GreenMantra plans to explore recycling PS and multi-layer materials into specialty products.