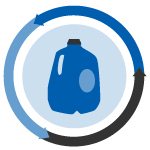 ExxonMobil is part of a project developing a type of flexible film that could be more easily integrated into the PE collection stream, and a detergent bottle maker focuses on recycled HDPE.
Flexible film progress: ExxonMobil and Thanh Phu, a Vietnam-based maker of flexible packaging, have collaborated to create a 100 percent PE laminated packaging. The flexible film, which can be recycled in traditional PE recycling streams, is designed to replace mixed-polymer packaging that is not widely recycled.
OSHA penalties: A Georgia plastics recycling company has received $317,814 in penalties from the U.S. Occupational Safety and Health Administration (OSHA). Columbia Recycling Corp. of Dalton, Ga. received five repeated violations, three serious violations and one other-than-serious safety and health infraction for failing to protect workers, according to OSHA.
Recycled-content detergent bottles: Recycling International reports on how a manufacturer of recycled-content PET bottles has found success in recycled HDPE bottles, although it hasn't been without complications. German company Alpla noted it has produced 60,000 detergent bottles made with 15 percent recycled HDPE, but it first had to overcome challenges, including sourcing high-quality granulate.
Bill banning bag bans dies: The Pennsylvania House of Representatives rejected a bill banning local taxes and bans on plastics bags. The bill, House Bill 1280, was rejected on Oct. 24 in a 75-112 vote.