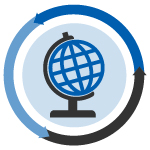 Two companies are working on a new resin made with a mix of plastic and fiber, and an exports-focused company opens a collection hub.
Resin with fiber: Two British companies have partnered up to develop a new resin made from disposable coffee cups. Plastics Technology says instead of separating the paper from the plastic lining during the recycling process, the new plastic actually incorporates the fiber.
At-home recycling: A London inventor has created equipment allowing households to cut their post-consumer plastic into strips and use it in a 3-D printer pen. Digital Trends takes a look at the innovation, called Renegade.
Collection hub: An exports-focused plastics recycling company has opened a large collection and sorting hub in Gosport, in southern England. Letsrecycle.com reports that Plastic Expert's depot has been handling about 100 metric tons per week of LDPE, HDPE, PP, HIPS and unplasticized polyvinyl chloride (uPVC).