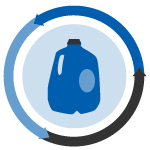 The bulky rigids recycling space nabs some attention, and a Dutch innovator creates a plastic processing system that will fit in your garage.
The big stuff: Earth911.com published a story exploring opportunities in recycling bulky rigid plastic items. Originally published in the Institute of Scrap Recycling Industries' Scrap magazine, the article explores collection approaches, transportation challenges and processing equipment needs for recycling items such as plastic buckets, lawn furniture, milk crates and more.
Conference put on hold: European Plastics Converters (EuPC) has postponed a food-contact plastics seminar that was originally set for April 20 and 21 in Brussels. Because of the recent terrorist events in the Belgian capital, the Food Contact Plastics 2016 seminar will be postponed until the end of the year, the group announced.
PTO potential: The global recycled plastics and plastics-to-fuel market is likely to grow by an average of 12.6 percent each year between 2016 and 2024, according to a new report from Transparency Market Research. The report looks at markets in various regions for different resins and plastics-to-fuel processes.
Small-scale processing: A plastics recycling line in every home? That's the goal of a Dutch designer and DIY guru who has engineered a system that allows people across the planet to use open-source plans and build simple machinery to process end-of-life plastics. They can then use the resin to craft new products.