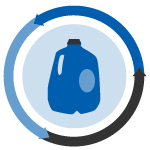 The beverage industry prepares to defend bottled water in Montreal, and an Ontario HDPE and PP reclaimer will open a facility in Alabama.
The beverage industry is gearing up to defend bottled water after the mayor of Montreal suggested the city, which recently approved a ban on plastic bags, address bottled water next. The Toronto Star reports the Canadian Beverage Association hired a lobbyist to address the situation in the wake of comments from Mayor Denis Coderre.
Green Processing Co., an Ontario-based plastics reclaimer, will open a facility in Birmingham, Ala., according to Plastics News. The company handles HDPE and PP containers as well as parts from automotive suppliers.
Minneapolis City Council members heard public comments on a draft ordinance prohibiting stores from providing plastic bags. Fox9.com reports a council committee held a public hearing on Monday on the ordinance, which, if approved, would go into effect in April 2017.