You can say this about the leaders of Oregon-based Agilyx: They don't shy away from a challenge.
Several years ago the company launched with plans to create oil from low-value, post-consumer plastics, something no other company had managed to cost-effectively achieve. Now, with global petroleum prices in a prolonged slump, the theoretical price advantage of oil created from alternative sources has disappeared, and Agilyx last month announced it was shifting its business focus.
The new approach will see the Portland-area company take in polystyrene material that is not otherwise being recovered. The plastic will be used as feedstock for a process that harnesses some of the firm's plastics-to-oil (PTO) equipment, but instead of oil, the resulting product will be a styrene monomer that the company hopes can be sold back to companies that make polystyrene products like cups and trays.
Clearly, it's an ambitious approach, in part because PS – either rigid or foamed – has proven to be hard to pull out of the waste stream efficiently.
In an interview, Ross Patten, the chairman and CEO of Agilyx, laid out the specifics of the company's strategy in the PS arena as well as what its plans are for PTO going forward.
Plastics Recycling Update: How did you come to focus on polystyrene for this project?
Ross Patten: For about the last year, through our laboratory we have here, we have been testing plastic streams on the pyrolysis unit. Polystyrene is one that reacts well to pyrolysis and creates a nice product. The laboratory is one in which we can create the pyrolysis action with a 10-pound slug of plastic. It culminated in a design for pyrolysis to a styrene monomer product.
So the pyrolysis process could be easily shifted to this application?
It takes a modification of our plant. We have a design and will be going into fabrication probably in the next few weeks. And then we'll take out the modules that are critical for making plastics-to-oil and we'll put in a module that is capable of taking the pyrolysis gases and converting it into the styrene monomer.
How exactly do you go from pyrolysis to new plastic product?
Once you get the pyrolysis gases, then you can quench them and separate them into a styrene monomer. That product is a liquid chemical product that can then be moved to a refiner who is making the polystyrene products. It blends right in. It's part of the circular economy of styrene, where the styrene is collected from a materials recovery facility, it comes to us where it would be converted through pyrolysis and then the stream would be purified and sent to companies that are making products like cups or plates or trays.
Do you envision this material coming from the residential stream? What will that chain look like?
We're trying to educate cities that there is a market for it, that it shouldn't be left in the municipal stream. There are systems that can be put into a MRF to extract the material. If there are buyers out there, they can charge on the front end to take it and then give it to us on the back end for nothing. We're in discussions with partners on all sides.
How clean do you need the material to be? Do you have specs configured?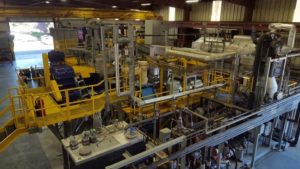 That's something we're still finalizing. But we believe we can make a very high quality stream from the polystyrene feedstock we've looked at, and we've looked at probably 20 different variations of it. Our system is very flexible in terms of the residual that might be in there. Through our system we can tolerate residual that goes out as char and then we get a high yield from the polystyrene chemical that we make.
Was it hard convincing your investors the company should move away from PTO for now?
The investors we have are very familiar with the recycling industry and the petroleum industry. It was a pretty easy decision. When we look at the price of oil and talk to analysts who are prognosticating on what is going to happen to oil, it's very unpredictable. The reports that I see from different analysts are all over the place. So it's not too hard of a decision. We believe prices will go back up and we have a very robust technology to address that when it does. In the meantime, there's a good market for polystyrene.
If market conditions change for PTO, would you have to de-construct, or could you have two lines going at same time?
You could have two lines going at the same time to serve both products. But we could also divide business up between two facilities. We have completed all the commercial drawing and design as well as finished a permitting process for a plastics-to-oil facility in the Philadelphia area. The facility here in Portland would probably stay as a polystyrene facility and the project in the Philadelphia area would probably go forward as a plastics-to-oil facility.