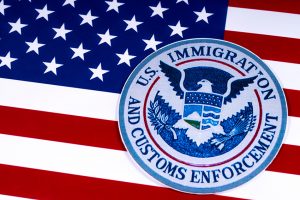 Authorities raided an electronics repair company in Texas last week, arresting and detaining nearly 300 employees for suspected immigration violations.
The New York Times on April 4 reported that immigration officials visited the Dallas facility of CVE Technology Group, a company that refurbishes and repairs used electronic devices. The search ultimately turned into the largest workplace immigration sweep in over a decade, according to the Times.
Motherboard reported CVE is a major subcontractor for Samsung, the world's largest smartphone company with just over one-fifth of the global market. Citing court documents, the technology news outlet for Vice Media reported the two companies have a close relationship.
The Immigration and Customs Enforcement (ICE) office was initially looking into CVE as part of a criminal investigation. The agency had received numerous tips that CVE was hiring employees using "fraudulent documents," according to the Times. After allegedly finding "unauthorized workers" at the site, the agency carried out an immigration sweep.
According to its website, CVE refurbishes mobile devices, performs parts harvesting and component level repair, provides reverse logistics services and more.
CVE Chief Executive Edward Cho told the Times his company is cooperating with authorities and providing support to employees impacted by the raid.
The company posted a statement on its website on April 8, responding to the allegations and reassuring customers the company remains "staffed and sufficiently resourced to continue our customer work in the normal course."
Photo credit: chrisdorney/Shutterstock

More stories about processors