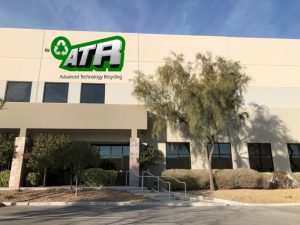 Advanced Technology Recycling opened a Las Vegas ITAD facility and relocated its Salt Lake City-area site into a larger space.
The Pontiac, Ill.-headquartered ITAD and e-scrap recycling company announced on Jan. 28 it opened a location in Las Vegas.
"The new facility has additional loading docks and will be used as a logistical and processing hub to reduce customer costs and improve logistic efficiency," company spokesman Brodie Ehresman stated in a press release.
The location will be equipped with portable shredders and remote inventory devices that allow staff to perform a range of services at customer sites. Employees at the Las Vegas facility will disassemble scrap electronics for recovery of both usable components and commodity materials.
On Jan. 17, ATR announced its Tooele, Utah facility has moved to nearby Salt Lake City. The new 30,000-square-foot site has seven loading docks and ground-level access. It will also have a showroom selling a range of used electronics. ATR first added a Utah location in late 2016, when it acquired a company called Electronic Recycling Solutions (ERS).
Ehresman said the Nevada and Utah locations allow the company to expand logistics, IT services and ITAD programs. "Our customers have overwhelmingly asked for more logistics options to reduce costs and additional processing/service capabilities to the West Coast regions," he said.
One year ago, ATR moved its Michigan location into a larger space, upgrading the location from a "spoke" to a "hub" in the company's network.
Recently, the company also created a dedicated customer service department with teams located throughout the U.S.
ATR has nine R2-certified facilities in Alabama, Illinois, Michigan, New York, Texas, Utah and Virginia. According to a press release, the company continues to seek out merger and acquisition opportunities throughout the U.S.
Photo courtesy of ATR.
More stories about processors