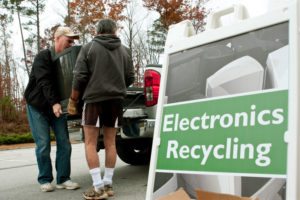 The Washington state e-scrap program experienced its largest percentage decline in collected pounds last year.
The E-Cycle Washington program paid for the collection of 25.3 million pounds of TVs, computers and monitors for recycling in 2018. That's down 18 percent compared with the 2017 volume, and it's 31.3 percent less than the weight collected in 2016.
The state's weight figures illustrate the trend of product lightweighting, in which fewer materials are used in newer electronic devices. The state has shown the trend in previous years as well. Last year not only brought the largest percentage drop by weight but also the lowest weight altogether in the program's 10-year history. Both 2017 and 2016 also marked record low weights at the time.
The program hit a record high weight in 2013, when it paid for the recycling of 45.2 million pounds.
In 2018, the vast majority of collected products were TVs, making up more than 80 percent of inbound weight. Monitors were 11 percent of the stream and computers made up the remaining 9 percent.
In 2016, the most recent year for which figures are available, the state had a 44 percent recycling rate for electronics.
Photo credit: Blulz60/Shutterstock
More stories about EPR/stewardship