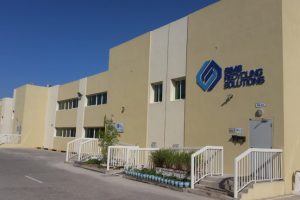 A larger Middle East location is allowing Sims Recycling Solutions to process growing quantities of electronics while improving security and reducing the risk of employee injury.
Sims Recycling Solutions (SRS), the electronics recycling and ITAD arm of global scrap metals company Sims Metal Management, gave E-Scrap News additional details on its recent move in Dubai, United Arab Emirates. The company announced last month it moved from a 6,000-square-foot facility to a nearly 24,000-square-foot location about three miles away in what's called the Jebel Ali Free Zone.
"We had outgrown our previous facility," Stephen Phelan, managing director for SRS Middle East and North Africa, stated in a press release. "Material was arriving faster than we could process it. The new larger facility enables us to enhance our service portfolio, cut lead times, and better positions us for the growing demand of e-waste recycling and IT asset disposition services in the region."
In an email, Phelan said the previous location was designed to handle 1,500 tons per year and the new one can handle up to 10,000 tons. The Jebel Ali Free Zone is home to the main distribution networks for OEMs in the Middle East and Africa, he wrote, allowing SRS to very quickly handle their outdated stock, warranty returns and product recalls.
Phelan noted the leased site was custom-fitted to the company's requirement, including high safety and security standards.
"We spent a lot of time planning the layout to ensure we could maximize space and enhance productivity in our operations," he said. "However, the best result is the new site has been a major upgrade for the well-being of employees."
It includes new hydraulic tools to reduce employees' physical exertion, as well as an air-conditioning system to keep the entire operations area cool, extremely important in the desert emirate.
The site also has more security than the old one, including round-the-clock security guards, full closed circuit TV coverage, alarms, biometric access control panels on all doors and airport-style metal detectors that check everyone entering and leaving the operations area, Phelan wrote.
Last month, E-Scrap News reported on plans by another major e-scrap player, ERI, to extend its presence into Dubai this year.
Photo courtesy of Sims Recycling Solutions.
More stories about processors