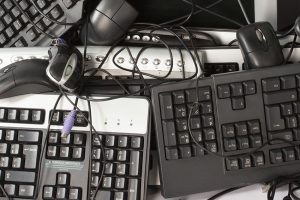 The amount of e-scrap recycled under Wisconsin's state program dropped significantly last year, a downward trend also seen in other states with mature recycling programs.
The Wisconsin Department of Natural Resources released its latest E-Cycle Wisconsin report, which provides an in-depth look at the program's performance during the July 2017-June 2018 period. The nine-year-old program includes TVs, computers, monitors, printers, computer peripherals, DVD players, VCRs and fax machines.
Falling weights
During the latest program year, E-Cycle Wisconsin collectors received 25.6 million pounds of electronics, down 18 percent from the previous year. The latest tally was down 35 percent from the peak collection total of 39.1 million pounds in 2011-12.
The document notes other extended producer responsibility programs are seeing the same trend. It cited those in Maine, Minnesota, New Jersey, Oregon and Washington.
"All began seeing a noticeable drop in collected weights over the last two or three years," according to the report. "This may indicate that, under several mature state recycling programs, including Wisconsin's, some of the backlog of electronics stored in homes has been cleaned out."
Manufacturer funding
The decrease in collections was partly responsible for a narrowing of the gap between the total pounds collected and the weight manufacturers paid for. During the 2017-18 program year, 1.2 million pounds were recycled but not funded by manufacturers. That was down from a gap of around 7 million pounds the year before.
Set by statutory formula, the overall recycling target last year was nearly 22 million pounds, down from 22.8 million the year before.
The document noted some manufacturers went significantly above and beyond their recycling targets. They earn credits, which can be used in future years, for recycling more than they're required to.
"Most notable were Best Buy and TTE Technology, which each recycled more than twice their recycling targets. Together, they paid to recycle more than 1.5 million extra pounds," the report states. "Other manufacturers that recycled a large number of extra pounds (about 782,000 pounds collectively) were Apple, Funai Corp, Hisense USA, Hitachi, LG Electronics, Sceptre, Sharp and Toshiba."
Challenges and recommendations
According to the report, the program continues to face challenges, including higher costs for consumers, fewer collection sites, constricted end markets for CRT glass and e-plastics, a changing stream containing less commodity value, and more.
The document makes several suggestions to the Wisconsin Legislature for ways to improve the program. One recommendation is to change the manufacturer target formula so it's based on the total weight of scrap electronics collected for recycling in prior years. The formula is currently based on new electronics sold into the market.
"Due to the popularity of smaller and lighter devices and manufacturers' design improvements to reduce product weight, the weight-based manufacturer recycling targets, set by a statutory formula, have declined by more than 10.5 million pounds (33 percent) since 2013," according to the report.
It was an issue the annual report identified in 2017, as well.
The 2018 analysis also suggests the Legislature could request a formal study of alternative target-setting approaches.
Photo credit: sylv1rob1/Shutterstock
More stories about EPR/stewardship