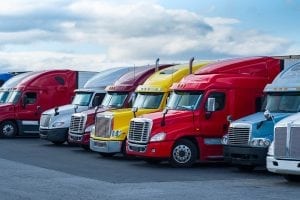 Electronics processors are seeing higher freight costs amid a tight trucking market, and the logistical challenges are predicted to increase in the coming years.
A shortage of drivers, new regulations and rising fuel costs are contributing to the challenging conditions. The factors have led e-scrap companies to make changes within their operations.
"We have been noticing fewer available lanes and rising costs," said Jeff Gloyd, vice president of sales and marketing for URT Solutions. "URT has been actively seeking additional haulers and brokers in order to meet our customer's needs."
The market shift led URT to take action in house as well, expanding its internal fleet to help keep down external costs. But that comes at a price as well.
"Unfortunately, like the falling commodity pricing, we have been forced to pass the increased freight costs on to our customers," Gloyd said.
ERI, which is among the largest e-scrap companies in the U.S., is currently seeing freight rates that are 40 percent higher than they were a year ago. Kevin Dillon, co-founder of ERI, noted the e-scrap sector relies on transportation in several key areas: device collection, transportation to processing facilities, and shipping out as commodities and refurbished devices.
"Basically, every industry that ships anything by truck is affected and the e-scrap sector is no exception," Dillon explained, noting that "the rise in costs has had an effect on recyclers of electronics industry-wide."
George Hinkle, president of ITAD company Arcoa Group and head of the e-scrap division of the Institute of Scrap Recycling Industries (ISRI), said the market pressure is not only impacting the ability to hire drivers, but it's actually impacting processing.
"Reuse equipment offers a much larger margin than scrap, which makes it easier to absorb increases in freight, whereas scrap or end-of-life materials have a much lower value and with the recent drop in commodity prices the increased freight can be a killer," Hinkle said. "If a recycler does not have a downstream within a reasonable distance of their facility, it becomes difficult."
"Costs aside, just getting a truck to your door to pick up has become a burden," Hinkle added.
Advanced Technology Recycling (ATR) on Sept. 1 will end a free drop-off recycling program in Flint, Mich. after roughly two years of service to local residents. There were a number of rising expenses, but ATR spokesman Brodie Ehresman noted that "ultimately, it was the freight costs that ended the program."
"Free recycling programs like this are becoming increasingly hard to maintain because our logistics costs have increased dramatically," he said in a press release.
'Perfect storm' converges
The freight conditions have also rippled across the wider recycling industry, hitting any company with transportation and logistics requirements.
ISRI, which represents recycling companies handling a variety of different materials, said it's been "a real challenge" to secure transportation amid a shortage in trucking supply.
"In terms of costs of doing business, for our guys, the biggest concerns right now are the costs and difficulties as associated with transportation," said Joe Pickard, chief economist and director of commodities at ISRI. "That's a really big issue, both in terms of trucking and rail."
"Logistics costs are more expensive than they were a year ago, and dramatically more expensive than they were two years ago," Joe Jurden of Kansas recycling company Cook Paper Recycling Corporation, said in an interview during the spring.
Several factors have come together to form what Jurden described as a "perfect storm" that's tightened the market. Fuel prices are rising, up 20 cents per gallon year over year, and fuel surcharges, which are charged by trucking companies to ensure fuel costs are covered, are rising accordingly.
A shortage of drivers has thrown another wrench into the mix. American Trucking Associations last fall predicted there would be a shortage of 50,000 drivers by the end of 2017. But by June 2018, The Washington Post was reporting that there were 63,000 open trucking positions this year, and that those open jobs are expected to more than double in the coming years.
Meanwhile, the electronic logging device (ELD) mandate required drivers to be in compliance by December 2017. The federal mandate requires commercial truck drivers to use ELDs, which record drivers' hours, a change from the previous standard of logging hours by hand on paper.
As E-Scrap News previously reported, proponents say the mandate will promote safety by effectively enforcing restrictions on the duration of time a trucker can be on the road before resting. Critics say they introduce unnecessary costs, delays and confusion.
Some shipping and receiving companies have a short window of time in which loads must be picked up or dropped off, and the ELD mandate could make those jobs less appealing, explained Keith Mallon of MDX Freight, in an interview with the Iowa Recycling Association.
"If they miss the small window, they lose too much drive-time waiting," Mallon stated.
As such, more flexible shipping schedules can help a company weather the storm, particularly if they allow pick-up or delivery outside normal business hours, Mallon said.
"If a driver can pick up or deliver a load after 5 p.m., or on a Saturday, it's a big advantage," he said.
Dan Leif, managing editor of E-Scrap News, contributed to this report.
Photo credit: Doubletree Studio/Shutterstock

More stories about markets