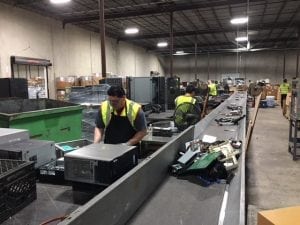 CompuCycle is expanding its footprint and capabilities with the installation of a multi-million-dollar shredding and separation system.
The 22-year-old company recently agreed to purchase a 40,000-square-foot space near its existing facility for the installation of the shredding and separation system. The new processing line will be the result of a partnership with New Hampshire-based processor Colt Recycling.
The action follows CompuCycle's move in March from a 50,000-square-foot space into its current 80,000-square-foot facility.
"The expansion of CompuCycle this past year has been tremendous," Kelly Hess, company president and CEO, told E-Scrap News.
CompuCycle was founded by John Hess, an immigrant from South Africa, in 1996. In 2013, his son and daughter-in-law, Clive and Kelly Hess, purchased the company. Today it has 75 employees, provides ITAD/ITAM services for businesses nationwide and recycling of locally generated residential material. Its locations are certified to the R2 standard.
CompuCycle's reuse business involves refurbishment and resale, parts harvesting and data destruction. It processes roughly 8,000 to 10,000 devices per month. The recycling side involves manual dismantling of nearly 20,000 pounds per day.
"We're extremely optimistic that'll grow substantially once the shredder is in place and the industry is aware of our capabilities in this region," said Clive Hess, executive vice president.
Market changes precipitated by China's scrap material imports restrictions prompted CompuCycle to invest in a shredding and separation system, Clive Hess said. "There's a need to have shredders available to have a sustainable solution for e-scrap," he said.
'Multiple millions of dollars'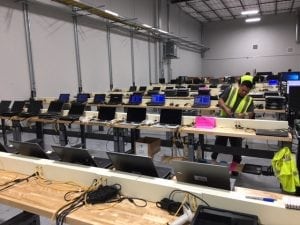 CompuCycle will begin occupying the 40,000-square-foot space in October. It's an easy golf cart ride from the company's current location in northwest Houston. The equipment is scheduled to be delivered in December and up and running in January. It will be capable of processing up to 40,000 pounds per day. It will use two shredders, a magnet, an eddy current separator and two optical sorters to generate metals, printed circuit boards and plastics for sale.
"It's multiple millions of dollars," Clive Hess said, declining to state a specific figure. "It's a significant investment."
In addition to enabling an increase in total throughput capacity, the system will allow CompuCycle to shred printers in house. Currently, ink/toner and paper are removed from printers before they're palletized and shipped to another company for shredding, Clive Hess said.
The processing system will be modeled on a design used by Colt Recycling, which has done business with CompuCycle for a number of years. Through the partnership with CompuCycle, Colt will design the system, install equipment and help CompuCycle sell the recovered commodities to Colt's current downstream buyers, Clive Hess said. It's Colt's first partnership of this kind, he said.
Colt will continue to run its own processing facilities in New Hampshire and North Carolina.
"Their processes they have right now they own," he said. "This is one where they're not taking ownership but they are contracted by CompuCycle to … help us set up, run the plant and sell the finished product."
More stories about processors