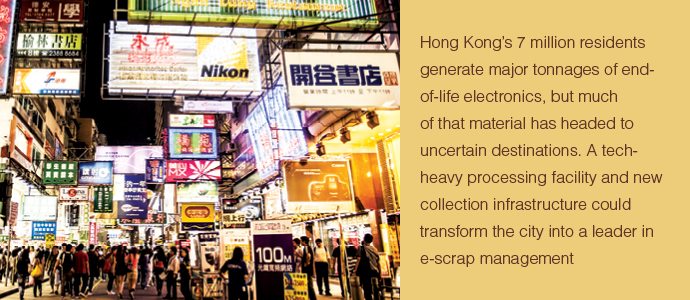 This article originally appeared in the June 2017 issue of E-Scrap News. Subscribe today for access to all print content.
A tech-heavy processing facility and new collection infrastructure could transform the city into a leader in e-scrap management.
Hong Kong is an international economic hub and one of the most densely populated places in the world. Those facts help explain why the Chinese autonomous territory produces about 70,000 metric tons of waste electrical and electronic equipment (WEEE) annually.
According to recent figures from United Nations University, Hong Kong also has the highest amount of e-waste per capita when compared to its peers in East and Southeast Asia.
Without specific WEEE legislation, much of the generated material is believed to be exported to developing countries, where poor recovery methods are often adopted. However, heavy reliance on exports is no longer sustainable in this sector of materials management because of tightening import controls over WEEE across the world and heightened understanding of the benefits of processing material near the places it is generated. In response, Hong Kong has moved aggressively to develop a self-sustaining model to manage its WEEE stream.
Mandating manufacturer funding
Similar to efforts elsewhere across the world, the government in charge of the Hong Kong Special Administrative Region (SAR) has sought to implement extended producer responsibility frameworks for a range of materials – first plastic bags, then WEEE and, in the near future, glass bottles. Under extended producer responsibility (EPR), the companies that sell a given product into a market are mandated to fund and/or manage end-of-life concerns for the items in question. Many of the 25 U.S. states with e-scrap laws operate their electronics recovery systems in this manner.
In order to provide a legal framework for EPR, the Promotion of Recycling and Proper Disposal (Electrical Equipment and Electronic Equipment) (Amendment) Bill 2015 was introduced into the SAR government's Legislative Council in 2015 and passed as an ordinance in 2016. As passed, the legislation covers air conditioners, refrigerators, washing machines, television sets, computers and certain associated devices, including printers, scanners and monitors. All these products are referred to as "regulated-e-waste," and this group of items accounts for about 85 percent of all WEEE generated in Hong Kong.
The ordinance requires manufacturers and importers to register and pay a recycling levy for regulated electrical and electronic equipment (REEE) that is distributed in Hong Kong. The purpose of imposing charges is to achieve full cost recovery, and this includes the cost to collect material and construct a treatment and recycling facility.
The legislation also requires retailers that sell covered electronics and appliances to arrange free removal services for consumers. Under this arrangement the old equipment must be sent to a licensed recycler.
Furthermore, a recycler will be licensed only if the treatment facility and its operation satisfy relevant conditions, and permits will be required for material export. Finally, landfills will no longer accept regulated e-waste for disposal.
It is anticipated that the legislation will come into force by the end of 2017, and more legislation from the Hong Kong government will likely be coming to help optimize the WEEE recovery infrastructure.
A nearly 100,000-square-foot facility
Without question, a key to the proposed system will be development of a safe and environmentally sound recycling facility supported by a comprehensive collection network.
To help bring reliable materials processing to Hong Kong, the government went to international tender and awarded a 12-year contract to ALBA Integrated Waste Solutions Hong Kong (ALBA-IWS), a joint-venture subsidiary of the German waste management company ALBA Group. The contract enlists the company to design, build and operate a WEEE treatment and recycling facility in Hong Kong. The ALBA Group currently operates electronics recycling plants across Germany and will bring many years of expertise in this specialist service to Hong Kong.
The planned facility will occupy around 98,000 square feet and will be built on a 3-hectare site. It will handle up to 30,000 metric tons of regulated WEEE each year under normal conditions, but the annual capacity can be increased to 57,000 metric tons by arranging additional shifts when demand requires. The facility is expected to be operational by mid-2017.
Four semi-automated processing lines located within the facility are being designed and installed by Germany-based Erdwich Vertriebs. The first line focuses on refrigerator treatment, the second handles air conditioning units, the third targets computer products and washing machines, and the fourth is designated for both CRT and LCD TVs and monitors.
The main objective of the facility is to recover materials in a sustainable fashion by using different mechanical destructive and separation technologies, including magnetic, pneumatic and optical sorting methods. State-of-the art technologies are used for the necessary detoxification, dismantling and recycling processes. And project leaders are expecting to recover over 80 percent (by weight) of the materials being treated.
Refrigerants, mercury-containing backlights from flat panels, leaded glass from CRTs and other toxic substances will be removed in controlled environments and sent separately to licensed reprocessors for further treatment. The remaining recyclables will then be shredded into small pieces and sorted into different factions. The system will also target some material for refurbishment and reuse.
Best practices have been adopted in order to prevent the leakage of hazardous chemicals throughout the process. For example, on the refrigerator and air conditioning lines, sealed extraction of refrigerants and a PU degassing system will be essential. For the LCD monitor line, robotics will be used to assist with the removal and handling of mercury-containing fluorescent tubes.
A multi-layer collection effort
A second critical component to the project is the creation of a reliable collection service for the millions of Hong Kong inhabitants.
Currently, ALBA-IWS is developing a network of regional collection centers, which are essentially sorting and storage hubs that help to safely move material from generators to processing lines. The aim is to have five regional centers supported by eight strategically located satellite sites and a fleet of collection vehicles. At the regional centers, workers will sort items by category and store them until they are ready to be delivered to the facility. Work to develop the collection infrastructure has been underway for almost a year.
To have material collected, Hong Kong citizens can either call an established hotline or access a web portal to place an on-site collection order. The collection service covers individual households as well as corporate entities and institutions. Examples include companies that wish to comply with corporate social responsibility policies and schools that are replacing electronic equipment with newer devices.
An IT system will be in place to track every collected item as it moves from collection to full recycling.
Material in good condition will be identified and stored separately within the collection network. When delivered to the refurbishment department at the processing facility, qualified technicians will repair and test these items. After testing the refurbished goods, the equipment will be donated to people in need, such as low income families or the elderly (all recipients will have been referred by registered social workers). The logistics fleet will deliver the items directly to recipients' homes. Computers are not slated to be included in this program – other organizations in Hong Kong already provide computer refurbishment and redistribution services.
Beacon for the industry
The project to systematically manage the significant tonnages of used electronics and other types of WEEE in Hong Kong is aiming to be a beacon that leaders in other areas of Asia and around the world can look to for guidance and inspiration.
The processing facility, for instance, is considered to be the most sophisticated WEEE plant in Southeast Asia – in part because its vision is to represent more than just product disassembly. For example, the building designs include a wide range of sustainability-focused architectural features such as natural lighting and ventilation, "green walls" that support native climbing plants, and a system of rainwater harvesting.
The site will also accommodate an education area and viewing gallery adjacent to the processing space so that visitors can witness the recycling process from delivery to processing. This is one part of a larger plan to raise public awareness of proper materials management and to encourage more people to participate in the proper recycling of electronics
The Hong Kong SAR government has realized that proper management of WEEE is important both locally and globally and that efficient recovery of valuable raw materials makes sense from economic and environmental perspectives. What makes this project unique is the integration of a robust collection service alongside materials processing that adheres to the highest international standards.
Nigel Mattravers is the director and general manager of ALBA Integrated Waste Solutions (Hong Kong) Limited and can be contacted at [email protected].