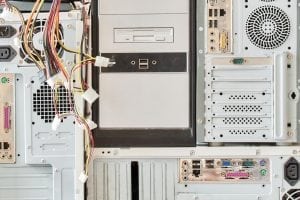 The national recycling rate for consumer electronics has fallen 2 percentage points, according to U.S. EPA estimates.
The federal agency's recently released Facts and Figures Report showed the recycling rate for consumer electronics declined to 39.8 percent in 2015. That was down from 41.7 percent in 2014.
The data shows the U.S. generated less material in 2015, but the decline in weight recycled was even steeper. About 3.09 million tons of end-of-life consumer electronics were generated in 2015, down 8 percent from the year before. The country recycled 1.23 million tons, down 12 percent year over year.
The EPA's "consumer electronics" category includes those used in homes, businesses and institutions. Device types include TVs, VCRs, camcorders, DVD players, various audio systems, phones, answering machines, fax machines, PCs, printers, monitors, modems and others.
Small appliances and white goods are not included in that category.
The overall U.S. recycling and composting rate has stalled at around 34 percent, the EPA's report showed.
Photo credit: Nerijus Juras/Shutterstock
More stories about research