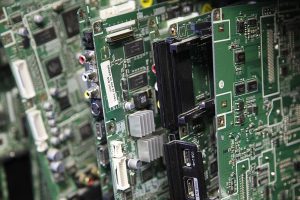 A project in Europe seeks to scale up a new technique for recovering metals from printed circuit boards and other electronic components.
The RecEOL project, which will cost 1.4 million euro (about $1.6 million), will use two patented recovery processes developed in Ireland. The technologies can be used to process PCBs, LCDs, batteries and other electronic components to reclaim a number of metals.
In addition to precious metals, the process recovers more than 95 percent of available copper, aluminum, steel and solder. It can also separate critical and special metals such as indium and tantalum from PCBs and LCDs, according to a press release. Current refining processes focus on copper and precious metals.
The pyrolysis technology is provided by Irish company Composite Recycling, which previously received money from the European Union for the research. According to a description of the process, the technology uses molten salts at temperatures of 350 to 400 degrees celsius to process whole PCBs, avoiding costs associated with shredding. The metals recovery occurs over about 15 minutes. Different materials are separated in a chamber based on their densities.
Led by University College Cork (UCC) in Ireland, the RecEOL project seeks to demonstrate that a commercial-scale plant is economically viable and environmentally preferred.
The project has research and industrial partners in Belgium, Germany and Spain. According to a press release from partner TU Bergakademie Freiberg in Germany, one project aim is to help meet the increasing demand for rare earth elements in the future. In addition to e-scrap, other materials, such as end-of-life solar cells and LED lamps, will also be processed.
Photo credit: WEEE Ireland
More stories about Europe