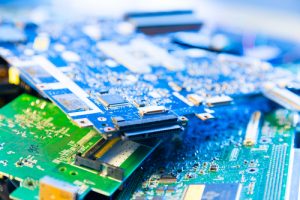 This story has been updated.
Sims Recycling Solutions has installed two new sorting lines at its large processing facility in the Dutch city of Eindhoven.
Sims Recycling Solutions (SRS), the electronics recycling arm of publicly traded scrap metals giant Sims Metal Management, installed metal sensors and optical sorters in the facility. The technologies are separating shredded plastics, circuit boards and metals, according to a press release.
The Eindhoven site processes more than 80,000 metric tons of waste electrical and electronic equipment (WEEE) per year and is already the largest such facility in the region, according to SRS.
"Constant improvement in processing technologies is a high priority for SRS, as this enables us to securely deliver recycled and separated materials all over the world," said Marc Affüpper, director of SRS for Europe, the Middle East and Asia. "By innovating our processing lines we are able to manage even the newest and complicated electronic gadgets."
SRS conducted the test run of the new sorting equipment at the end of April. It is now in full operation.
"This new operation provides us with cleaner and better material streams for plastics, iron, aluminum and copper," Jan Visser, SRS' director for that region of Europe, told E-Scrap News. "The new plastics separation line provides the option to deliver separated materials now directly to the plastics recyclers and specialty compounders all over the world. The materials we target are polypropylene (PP), polyethylene (PE), polystyrene (PS) and acrylonitrile butadiene styrene (ABS). With these lines we now have the ability to deliver separated streams of plastics directly back to the compounders which our electronics OEM clients have chosen."
SRS also added magnetic separation equipment, resulting in cleaner streams and providing the opportunity to receive higher returns for copper and precious metals at lower processing costs, Visser said.
The project included construction of a new building, which has makes it easier for SRS to meet local environmental regulations by bringing storage and processing activities indoors. Visser said the project cost can't be disclosed at this time.
This story has been updated with comments from Jan Visser of Sims Recycling Solutions.
Photo credit: science photo/Shutterstock
More stories about processors