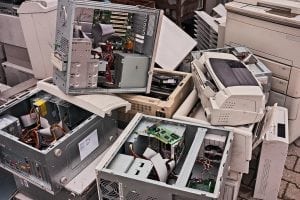 A $25,000 grant will help a Nebraska processor achieve R2 certification, part of a larger effort to boost e-scrap recycling capacity in the Cornhusker State.
Omaha-based Sadoff E-Recycling & Data Destruction received the grant, which was funded by the Consumer Technology Association (CTA) and awarded by the Northeast Recycling Council (NERC). According to a press release, the money will help the company in its recent effort to become the third e-scrap processor in the state to achieve R2 certification.
Lynn Rubinstein, executive director of NERC, said the grant will reimburse Sadoff for costs it incurred to date, including hiring a consultant and making any identified changes to ensure the facility conforms to the standard.
"This is intended as a reimbursement 'subsidy' toward a successful audit," she said.
She is "cautiously optimistic" NERC will award a second $25,000 grant to a different processor in Nebraska by the end of the year.
CTA's capacity-building program in Nebraska began in 2017 and, at the time, there were no certified electronics recycling companies in the state, according to the release. Originally scheduled to end in 2017, it was extended because NERC wasn't able to award the grants last year.
Despite the fact Nebraska isn't in the Northeast, CTA selected NERC to administer the grants because the association and Rubinstein have extensive experience with electronics recycling projects.
Photo credit: ermess/Shutterstock
More stories about certification standards