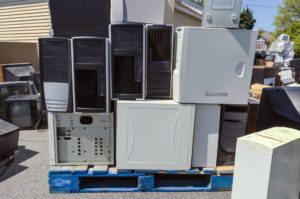 Electronics manufacturers are launching an e-scrap recycling pilot program in Nebraska, an effort to explore sustainable systems that aren't driven by state law.
The Consumer Technology Association (CTA) announced the project via a press release, which states original equipment manufacturers (OEMs) will pay for the program.
In an email to E-Scrap News, Walter Alcorn, vice president of Environmental Affairs and Industry Sustainability at the CTA, said both OEMs and retailers will fund the program "through their own or their chosen recycling program."
The pilot project also aims to increase the number of collection locations.
Nebraska doesn't have an e-scrap recycling law.
"Nebraska has had legislative activity for some time, and [as] a result of those discussions the opportunity to explore a public-private partnership emerged," said Alcorn. "We haven't seen any states without an electronics recycling mandate pass legislation for the past five years, and given the concerns about implementation of existing mandates in several states we thought it would be helpful to try something else."
The CTA will analyze the data at the end of 2017 and release a summary report, in addition to recommendations for the future.
The executive director of the Nebraska State Recycling Association, Julie Diegel, was unaware of the pilot program when first contacted by E-Scrap News. She later spoke with the CTA and said her association would likely be involved with the pilot program in some way.