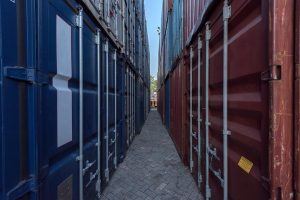 China has ratcheted up inspection requirements for recyclables imported from the U.S., requiring every load to be opened for inspection and temporarily shutting down the only organization providing pre-shipment approval in the U.S.
The country's General Administration of Customs announced May 3 that beginning the next day, every container of imported scrap material would be opened and inspected, according to a translation provided by the Institute of Scrap Recycling Industries (ISRI).
But perhaps the more impactful move was China deciding to implement a month-long shutdown of China Certification and Inspection Group's (CCIC) North America operations. From May 4 through June 4, CCIC won't be allowed to conduct any inspections or issue certificates for scrap materials, ISRI wrote in an alert.
CCIC, a quasi-governmental agency that inspects loads in the U.S., provides pre-shipment approvals for companies sending materials to China. Adina Renee Adler, ISRI's senior director of international relations, told Resource Recycling "all scrap shipments from all supplier countries (not just the United States) must be inspected before shipment." With CCIC suspended, ISRI member companies have been left with no access to pre-shipment inspection services.
"And CCIC's offices in other countries are worried about what could come next," she said.
The latest announcement follows a regulatory change related to CCIC in February. China's General Administration of Quality Supervision, Inspection and Quarantine AQSIQ, an inspection authority, opened the process to allow other companies besides CCIC to conduct pre-shipment inspections, ISRI said in a notice to members. Previously, CCIC had that sole authority. ISRI noted that knows of no other companies that have received approval to provide those inspection services, however.
The regulations laid out a process for third-party inspection companies to receive licenses from AQSIQ to complete pre-shipment inspections, ISRI said. The rulemaking also laid a framework for penalizing pre-inspection groups that are found to be approving contaminated loads.
If CCIC is allowed to continue North American operations starting in early June, it seems likely exporters will still need to navigate the policy directing Chinese inspectors to open and assess every scrap container entering Chinese ports from the U.S.
The announcement gave no end date to the universal inspections.
As an explanation for that move, the Chinese agency noted that since early this year, "the ports throughout the country have continuously detected multiple batches of imported U.S. wastes as raw materials that do not meet the environmental protection requirements."
China has enacted an outright ban this year on imports of many recyclables, and it has imposed sharp reductions in allowed contamination in others.
Photo credit: Sumrit Tesrumphun/Shutterstock
More stories about Asia