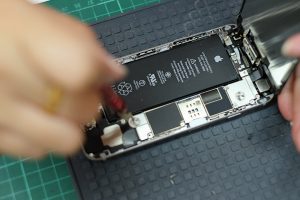 Two recent surveys explored consumer expectations when it comes to the management of recovered electronics.
One survey, commissioned by a new group called the Security Innovation Center (SIC), looked at the public's concerns about data security and privacy around used internet-connected devices.
Another, from the U.S. Public Interest Research Group (U.S. PIRG), investigated how Apple's phone-throttling controversy has stimulated battery-replacement business for independent repair shops across the country.
Data security insights
The survey from SIC offers insights into consumers' data-safety attitudes as they relate to device repair. Conducted by Zogby Analytics, the online survey polled 1,015 U.S. adults in late January 2018, according to an SIC press release.
Nearly 70 percent of respondents said they felt most comfortable having a manufacturer or authorized repair shop fix their internet-connected device. Less than 3 percent said they'd be comfortable with an outlet classified as "other repair shop" fixing it. And nearly 22 percent said they'd be most comfortable either fixing it themselves or having a handy friend do the work.
Just over 17 percent said they know how to determine whether an electronics repair shop is protecting security and privacy. The rest either said they didn't know or weren't sure.
The survey results also indicated security and privacy concerns may be holding back sales of used devices. Specifically, 42 percent of respondents said they would not purchase a used internet-connected product, and another 23 percent said they weren't sure whether they would.
Asked about the biggest reason why they wouldn't buy a used device, 55 percent cited concerns about security and privacy, 25 percent had concerns about reliability, 16 percent had concerns about performance and 4 percent weren't sure.
The survey also touched on the "right to repair" movement, which seeks to require OEMs to make available the information, tools and parts necessary for individuals and independent shops to fix electronics. It asked whether a manufacturer's proprietary source code, design and repair documents, and diagnostic software should be required by law to be publicly available: More than 45 percent said "yes," 21 percent said "no," and more than 33 percent weren't sure.
A spokesman for SIC provided the full survey results to E-Scrap News. SIC describes itself as "dedicated to fostering a policy environment that enhances consumer security and privacy protections in today's connected world."
Battery-replacement business
Repair shops have reported a notable increase in battery replacement requests since news broke in December that Apple has intentionally slowed the performance of phones with older batteries.
Alternatively being dubbed "Batterygate" or "Throttlegate" by tech news sites, the controversy centers on Apple's decision to release a software update that slows iPhone performance. The company said it did so to prevent shutdowns when the phone's energy needs suddenly exceed supply. After an outcry, the company agreed to replace old batteries at a discounted cost, but faced with a surge of requests, long wait times were being reported.
A U.S. PIRG survey suggests the situation has led many consumers to utilize independent repair shops or attempt to replace the batteries themselves. U.S. PIRG worked with nonprofit groups Repair.org and iFixit to gather survey responses from 164 U.S. repair shops. The shops reported battery replacement requests went from an average of 1,242 per week in October and November to 1,706 after Dec. 20, when the news broke, a 37 percent increase. Web traffic to iFixit's instructions for replacing iPhone batteries also increased 153 percent after Dec. 20.
In the survey results report, U.S. PIRG argues in favor of right to repair bills in legislatures across the country.
Photo credit: Kevin Khoo/Shutterstock
More stories about research