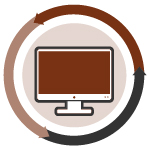 Uncertainty emerges in the project to recycle gold, silver and copper from electronics into Olympic medals, and sustainability will be discussed during a panel at CES.
Olympics medals: Lagging collections efforts have put at risk Japan's goal of sourcing metals for its 2020 Summer Olympic Games medals from recycled electronics. The Japan News reports municipalities in some areas are failing to establish drop-off sites, amid concerns over how phones, which contain personal data, will be handled. Contract between local governments and waste disposal companies are also a sticking point.
Through the lens: Wired magazine has published photos from a German photographer's upcoming book showing e-scrap recycling conditions in notorious locations in China, Ghana and India. The photos to be included in the book "CTRL-X: A Topography of E-Waste" were taken by Kai Löffelbein over a seven-year period.
EPA Electronics Challenge: The U.S. EPA will recognize companies participating in the agency's Sustainable Materials Management (SMM) Electronics Challenge at the Consumer Electronics Show (CES) in Las Vegas. The event, scheduled to take place today, will include an awards ceremony followed by a panel discussion entitled "Sustainability Policies in the Tech Industry."