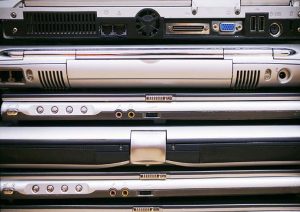 A Midwest e-scrap processor has expanded into a larger facility based on recent growth, particularly on the reuse side of the business.
Lafayette, Ind.-based Oscar Winski Company has moved its electronics recycling division, OWCe, into an expanded space alongside the company's logistics operation. The company has operated for more than 100 years as a scrap metal processor and launched the electronics recycling and logistics divisions six years ago.
"We were outgrowing our current facility quite a bit," Ben Evans, business development manager for OWCe, said in an interview with E-Scrap News. "We really didn't have the space to contain it anymore."
The company officially moved into its new, 165,000-square-foot facility this week, Evans said. The e-scrap and logistics operations were previously in separate buildings, and the new space is nearly four times the combined size of the previous space, the company said in a press release. About 25 percent will be used for e-scrap processing, 50 percent for the logistics division, Evans said.
"We're leaving space open so we both have the ability to grow," Evans said.
OWCe has capacity to process 1 million pounds per year, Evans said, and it hopes to increase its capacity in the new space. OWCe shreds some material, sends other products to downstream processors and processes devices for reuse, a growing segment of the business.
"We've ramped up that side of the business," Evans said. He noted that customers, particularly school districts, where devices are turned over every four to six years, are looking for some amount of return to offset the cost of new device purchases.
In another developing trend, the company is bringing in material from nationwide sources. Evans said the business was initially very localized in its supply, but demand has allowed it to begin accepting feedstock from a wider geographical area.
More stories about processors