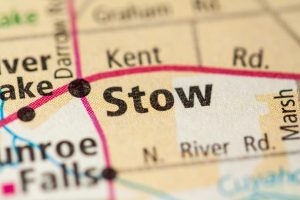 The parent of Regency Technologies is consolidating two northern Ohio facilities into a massive new location that's under construction near Cleveland.
The facility will be sited in Stow, Ohio and will be used by Regency parent company Reserve Management Group (RMG) for a variety of scrap operations. It will total 500,000 square feet in warehouse space alone.
In addition to Regency, RMG owns a handful of companies that focus on ferrous and non-ferrous scrap as well as auto shredder residue.
In an interview, Regency CEO Jim Levine estimated that at least half of the space in the new site would be dedicated to processing electronics, though he noted that is a preliminary figure.
"The electronic recycling, asset recovery business is continuing to grow and we just feel we need to be in a position to handle more of that growth," Levine said.
The company is moving into a commercial space that has been empty since 2014, according to Stow city documents. It was formerly used by a manufacturer of pressure-sensitive materials and other products. According to the city, the project will involve RMG investing at least $20 million, a figure Levine confirmed as being fairly accurate.
"It's a major project, for sure," he said.
The city approved an income tax sharing grant agreement with RMG to provide assistance with its relocation and consolidation of facilities into the vacant manufacturing plant, according to the city. RMG is also completing construction work to ready the site for its purposes. The city noted the facility "requires significant building upgrades" to be used for manufacturing again.
With the move and consolidation comes opportunity for expansion as well. According to the city, RMG employs 350 employees between its two existing Cleveland-area facilities, which have a combined area of 250,000 square feet. The employment level will remain the same for the first year at the new site, but is planned to grow to 400 employees for the second year and 450 during the third year.
Levine said the company is also looking to grow its service capacity as well.
"We'll be looking to expand our technology sector there significantly," Levine said, "as well as downstream recycling capacity."
He added it's too early to say how much the capacity will expand with the new plant. He said more information about capacity will be known in a month or so.
Levine said site upgrades began a few months ago, and the work is focused on getting the building basics taken care of. He said a target date has not been set, but the facility is planned to open during 2018.
Some of the RMG subsidiaries could move in earlier than others, he added.
More stories about processors