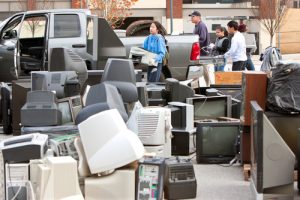 Regulators in California are studying a number of legislative fixes to the nation's longest-running e-scrap program, including expanding the existing consumer-funded model or going with a more commonly used system financed by OEMs.
In an Oct. 11 workshop, the California Department of Resources Recycling and Recovery (CalRecycle) noted it was time to explore solutions as the program continues to mature. In 2003, California became the first state to pass a law ushering in a formal electronics recycling program.
"We have a need to consider whether the current approaches to e-waste management are going to be sufficient in the future," Howard Levenson, CalRecycle's deputy director of materials management and local assistance, said during the workshop.
In its current form, California's program requires consumers to pay an advanced recycling fee to cover the costs of recycling devices with video displays, such as TVs and computers. Since its inception, the electronics recycling program has led to the recycling of 2.2 billion pounds of electronics, but Levenson noted it has been hit hard by changes in the CRT recycling landscape and a rapidly evolving end-of-life stream. "We have a lot of challenges," he said.
The afternoon workshop was attended by various processors, including Sims, ECS, e-Recycling of California, Cal Micro Recycling and Onsite Electronics Recycling, as well as advocacy group Californians Against Waste, electronics industry group Consumer Technology Association (CTA), and OEMs Dell, HP and Vizio.
Expand the program – or completely overhaul it?
Much of the three-hour workshop was devoted to discussing the potential merits and pitfalls of an enhanced-fee-and-payment model versus a full-blown product stewardship model.
The enhanced-fee-and-payment model, CalRecycle explained, would essentially expand the list of electronics covered by the program to possibly include printers, scanners, e-readers, small and large appliances and even solar panels. Consumers would continue to directly shoulder the costs of the program by paying a fee when they purchase new electronics and CalRecycle would continue to manage the program.
Consumers currently pay $5, $6 or $7 depending on size of the device's screen. CalRecycle currently pays electronics processors $0.49 per pound for covered devices they recycle, a rate that's intended to cover both collection and recycling costs. Under the program, approved processors pay collectors $0.19 per pound for covered electronics.
Walter Alcorn, vice president of environmental affairs and industry sustainability at CTA, told E-Scrap News in a statement that his members are in favor of sticking with the consumer fee approach in California.
"CTA supports the California program and encourages its continued stability with minimal changes and only where necessary," Alcorn stated.
Mark Murray, executive director of Californians Against Waste (CAW), also told E-Scrap News in a statement that he believes the best way forward is by adjusting the current model.
"The issue on the table is not how to fiddle with the policies that are working, but rather what to do with the thousands of tons of other increasingly 'disposable' electronic devices – many of them toxic – that are accumulating in homes and businesses or being improperly disposed," Murray said.
Some processors in attendance agreed. Roy Dann, the CEO of Cal Micro Recycling, said he's worried OEMs would negatively impact the program.
"California's program is doing a great job. … I'm concerned about OEMs supervising the project because, as we've seen on the East Coast, they shop around and delay payments and force recyclers to go out of business," Dann said. "They keep on squeezing the recycler where there's no profit to be made or they're forced to commit fraud."
Manufacturer cost-internalization explored
The producer stewardship model would shift financial and management responsibilities to producers. This model is used by the vast majority of state-run programs in the country.
"With sufficient oversight, safe and appropriate downstream processing of materials can be ensured under a product stewardship program," said Shirley Willd-Wagner, a CalRecycle staff member who has been leading the agency's exploration of these solutions.
Others voiced tentative support for a shift toward manufacturer funding. Ken Taggart, the executive vice president at ECS, said he would support a shift to manufacturer funding if it meant the state no longer had to manage the funds for the program.
"I don't really want to put the burden on the OEMs, but it's the only way to get out of the issue of the state having the money," Taggart said, noting that it would remain important for the state to oversee recycling company registrations and certifications.
Janice Oldemeyer, president of Onsite Electronics Recycling, said she believes the state needs to play an active role in overseeing the program if a shift toward OEM funding does indeed take place.
"Some of the manufacturer programs are squeezing the recyclers too much," Oldemeyer said. "The state needs to be involved in the management of material and [ensure] that the recyclers are being paid an appropriate amount for the material."
Whatever decision is ultimately made, state officials made it clear it would require a legislative fix, not a regulatory one.
"In general, we've heard more support for maintaining the current system. …That's been fairly consistent," Levenson said, adding, "This is a gnarly question because the California system is different from every other system in the country."
CalRecycle staff hope to make a recommendation to the director of the agency by early 2018.
"Something that lays out our thinking on what one or two feasible approaches might be," Levenson said. "Clearly anything that would happen would have to have legislation, so this is just a discussion at this point."
More stories about California