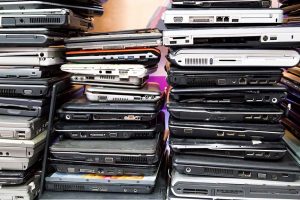 A European project will release a data platform providing a wealth of information on changes in the end-of-life stream. The particulars can help processors better recover commodities from scrap electronics.
The Prospecting Secondary Raw Materials in the Urban Mine and Mining Wastes (ProSUM) project will unveil what it's calling the Urban Mine Knowledge Data Platform this fall. The result of two years of data analysis, the platform will be formally unveiled on Nov. 10 in Brussels.
According to a recent press release, the Urban Mine Knowledge Data Platform will offer data on scrap electronics, white goods, vehicles, batteries and mining tailings. Users will be able to perform searches and access maps, graphs, charts and specific reports.
"If [processors know the details on] valuable elements in the products, and where and how they are bound in components and materials, it will help to understand what the sorting and technology options are for recovery, and importantly, what the economics look like," Sarah Downes, ProSUM's project leader, told E-Scrap News.
Downes will speak during next week's E-Scrap 2017 in Orlando, Fla. She'll participate in a plenary session entitled "What's Trending Now," along with Bob Johnson of the National Association for Information Destruction (NAID), Jason Linnell of the National Center for Electronics Recycling (NCER) and David Daoud of Compliance Standards. E-Scrap News recently asked Downes about her presentation and the ProSUM project.
When asked how better information can help e-scrap processors, Downes cited as a straightforward example the shift in the scrap TV stream, with the projected end of CRTs and growth in flat-panel displays, as well as the differences in how the various devices must be handled. But other product changes could bring greater difficulties, she added.
"The biggest challenge is the growth in the number of elements used in a higher number of devices with more complex functions," Downes said. "The materials science and technology is improving all of the time, which means that smaller amounts of these elements can be used in a component or alloy. This means valuable commodities are more dispersed and harder to extract."
The 3.7 million euro (about $4.4 million) ProSUM project is led by the Brussels-based WEEE Forum, an association of 33 extended producer responsibility compliance organizations, most of which are located in Europe. More than 80 percent of the project budget came from a grant from the European Commission.
Downes is the environmental affairs manager at REPIC, which is the largest producer compliance group for waste electrical and electronic equipment (WEEE) in the U.K. It is a member of the WEEE Forum.
More stories about research