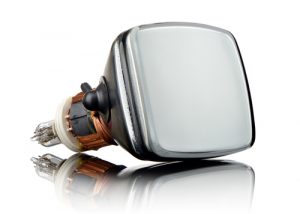 Nulife Glass, a company that built its own furnace to recycle CRT glass in the U.S., has decided to close.
The firm, led by Simon Greer, struggled to clear regulatory hurdles related to its accumulation of CRT material in New York, Pennsylvania and Virginia. Greer told E-Scrap News the company, which was originally founded in England, has nearly completed a multi-million-dollar cleanup effort in Pennsylvania and will soon focus on cleaning out its Bristol, Va. and Dunkirk, N.Y. sites.
"I have no intention of keeping my business in America," Greer said.
'Hit a crash point'
Started in 2013, Nulife was headquartered in Dunkirk. Its CRT glass furnace went live in 2016 and was capable of processing up to 10 tons of CRT glass per day, separating out both lead and glass to be sold into commodity markets.
Despite regulatory issues dating back to its founding, Nulife emerged as a significant downstream outlet for U.S. CRT glass. It maintained several warehouses in Pennsylvania and a second processing site in Bristol, Va.
According to Greer, the undoing of the company ultimately came in March, when the Pennsylvania Department of Environmental Protection (PA DEP) ordered the company to remove more than 17 million pounds of glass in storage by February 2018.
"The straw that broke the camel's back was Pennsylvania's order to landfill the glass," Greer said. "It was our feedstock, it was our future, it was our profits."
Nulife suspended its operations in June. Greer says Nulife is now attempting to safely manage its remaining material as it winds down its business.
"We're not running away. We've hit a crash point and we're doing the best we can," Greer said.  "People have buried stuff in the ground, people have run away – our business has failed, but we're trying to make sure the places where we've operated are not affected."
Costing millions to clean up
According to Greer, Nulife is currently ahead of schedule on its state-mandated cleanup effort in Pennsylvania. More than 14 million pounds of CRT glass have already been sent to a hazardous waste facility in the state, with costs that have already totaled "many, many millions," he said. Nulife expects to complete the cleanup within the next two months.
PA DEP spokeswoman Melanie Williams confirmed that Nulife met an August 31 deadline to remove a minimum of 8 million pounds of material. She declined to comment further on Nulife's compliance with the state order. Under the order, Nulife is required to remove 11 million pounds by Oct. 31, 14 million pounds by Dec. 31 and all 17 million pounds by Feb. 28, 2018.
In Virginia, meanwhile, Greer said he anticipates a similar effort to commence within a week. The firm received a notice of violation in May from the Virginia Department of Environmental Quality, which said it was speculatively accumulating CRT material. A total of 20 million pounds of CRT glass and tubes are currently in storage in Bristol, and Greer estimated all of it will be sent for hazardous waste disposal by the end of the year.
A smaller accumulation of non-leaded glass currently in storage in Dunkirk is expected to be removed from the premises within the next few weeks.
While Greer does not know whether Nulife will look to set down roots elsewhere, he said he's certain that it's no longer viable to operate in the U.S.
"Our 21st century alchemy is not what fits the regulations and I'm not interested in putting myself at further risk," Greer said.
More stories about regulation/oversight